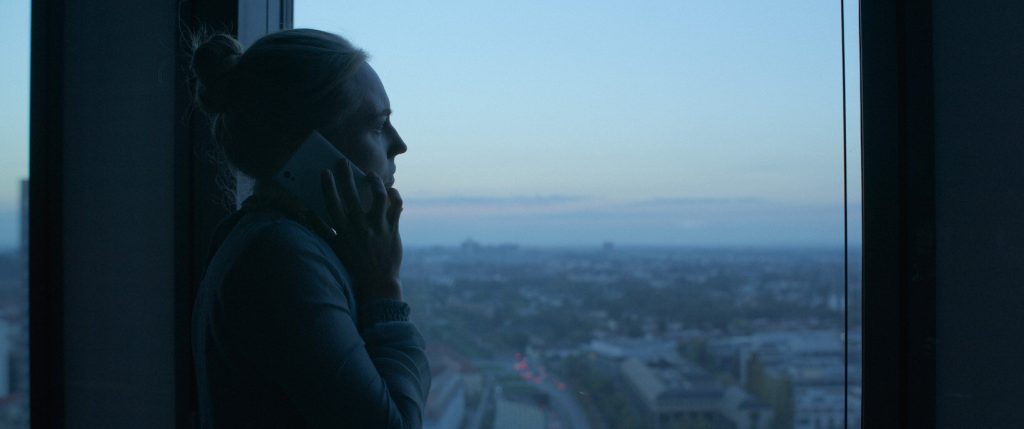 by Zach Epstein
Walking into one's first film festival can be intimidating. Being in the presence of acclaimed directors, critics, actors, and more is unfamiliar territory for someone who's love for movies developed because of the Marvel Cinematic Universe.
When I walked into the Galaxy Highland theatre for the first time, I had no idea what to expect. I entered a mostly empty theater to view Family Obligations. It wasn't the sort of movie I typically sought out, yet I gave it a shot anyway. The movie was slow, little happened by way of plot, and the camera work said: "small budget, yet attention to detail." The emotions evoked when a young man takes care of his dying uncle are present, but could have been conveyed more intensely.
At the end of the festival I got to see Ford vs. Ferrari, a surefire blockbuster featuring Matt Damon and Christian Bale arriving in theaters on November 15th, just a few weeks after AFF. This is much more of a "movie" that I was used to, with big-name stars producing at a high level. It felt as if I was in a regular movie theater setting, though with a bit more excitement as it was an early release.
Neither of those two movies compared to my experience seeing Limbo. This 89-minute German film helped thrust me deep into the thrill of the festival. The movie was located and timed directly after Family Obligations, and after seeing five words in the description: "crook," "undercover agent," and "gangster boss," I knew I was set up in the right place at the right time.
The movie begins with a compliance manager named Ana identifying a potential mistake in her company's finances, just as the work week finishes on Friday afternoon. She chases after her boss insisting the issue is urgent, though that boss brushes off the worry and insists Ana join him and a third man in their car. The camera tracks their journey to a gas station, before strangely diverting to a seemingly (and in fact) trivial character, on an arbitrary 30-second walk, into a building.
Upon arriving in that building the camera turns to a fervent conversation between two men, and they too hop into a car. The movie then follows their entire road journey — a peculiar storytelling choice, as little took place during the ride.
That second car scene helped me realize that something was different about this movie, and only after it concluded I learned that the entire movie is filmed in a single shot. Known more commonly as a "one-shot film," the filmmakers (present in the crowd) revealed this. "Were there any secret cuts?" a film festival employee asked. "No," the filmmakers responded. "Originally, we had some dark corners and dark doorways just in case we wanted to include [a secret cut]. But we realized people would surely ask about this, so we intentionally brightened those areas to prove to audiences there were actually no secret cuts."
This is the first one-shot film I've seen (or, at least, that I've seen knowing it was filmed in one shot), and it exemplified one of many new experiences film festivals offer. Filmmakers Anil Kizilbuga (the screenwriter) and Tim Dünschede (the director) navigate this bold approach quite impressively, plotting and accounting for little details throughout that could otherwise rupture the film's continuity.
The film was shot a total of two times. The first time, the cameras simply went through the entire movie without stopping. This footage was viewed, analyzed, and utilized as a vessel to prepare loose ends before the second and final take. One example of how the filmmakers revised the plan for the second time around can be seen in the first car scene between Ana and the men. As the filmmakers recall, while initially filming that scene, "We hit 10 red lights in a row, and ran out of dialogue!" The timing of stoplights is one of many unpredictable elements within a one-shot film, so for the next take they scripted additional "backup" lines for the characters in case the lights delayed the ride once again!
Most drama/thrillers jump time throughout their movies to help build up hype and anticipation. Dünschede starts his one-shot masterpiece in the daytime, and still manages to build up to a climax taking place at night. Viewers are on the edge of their seats. The character development and familial ties come full circle even in such brief encounters. Making a film that captures action, emotion, and suspense in 89 minutes is an accomplishment. Doing that in one take is – as Kizilbuga described it to the festival audience – "a mind fuck." But they do it, nonetheless. Delving deeper into the plot would ruin much of the surprise for those who haven't seen this movie yet, so I will save my words in hopes others get to enjoy this film one day.
Part of what made the experience so special was speaking and interacting with these filmmakers after other attendees filed out. We talked about the remarkable characters portrayed by several of the actors and actresses, and they revealed some insights that made it even more special. None of the actors or actresses were paid, and only one (not Ana) is a professional. In fact, while most at least had avid-theater experience, Ana was the anomaly who didn't!
This movie is not a summer blockbuster. It's not a sequel, in a series, or directed by an award-winning star. In fact, it was Dünschede's thesis project that he submitted back while still a film student in Germany. A heck of a thesis though it is, Dunschede somehow only received an A- on for his work. I politely disagree with the more qualified professor, giving the movie – and the experience of seeing it at AFF as a whole – a solid A+.