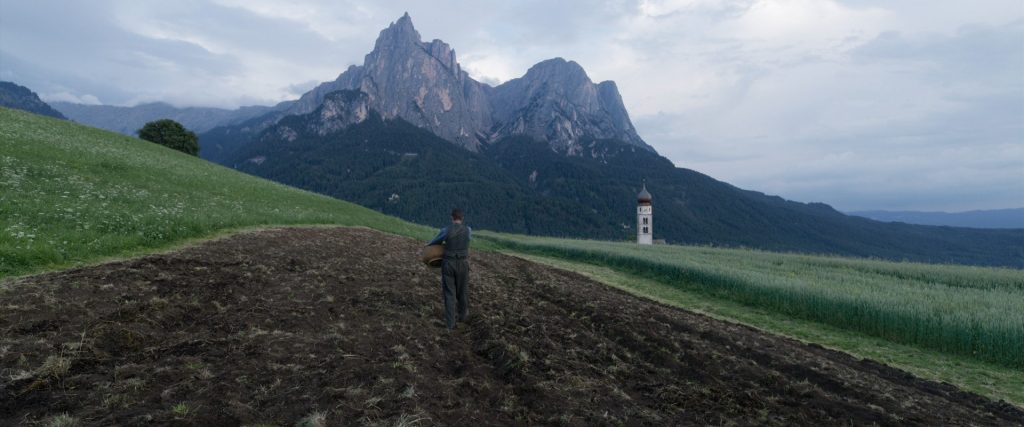 by Shannon Weidner
Amidst the innumerable roundtable discussions, writer's workshops and film premieres  presented at the twenty-sixth-annual Austin Film Festival, Terrence Malick's A Hidden Life and Celine Sciamma's Portrait of a Lady on Fire emerged as two of the most powerful centerpieces of the eight-day experience. A Hidden Life responds to our contemporary moral climate, fraught with political polarization, "fake news," and the threat of neo-Nazi ideals, with a philosophical exploration of conscientious objection to World War II, set against a backdrop of the majestic, but isolating mountains of 1940s Austria. Skipping backward in time, without losing applicability to the present moment, Portrait of a Lady on Fire redefines the female gaze through the eyes of an eighteenth-century French painter in her covert attempts to paint the portrait of her complex and headstrong lover.
A Hidden Life begins as an auditory epistolary novel between Franziska "Fani" Jagerstatter and her husband, Franz. In haunting, extended voiceovers, she longs for the beginning of her relationship with Franz and the happy life they once knew. Her recollections of their early life play out as a living collage interlaced with wide shots of Franz motorcycling through the immense, verdant countryside, their humble and vivacious wedding celebration, and the close-up moments of quiet joy that they find raising their children.
Edenic scenery and tender vignettes of Franz and Fani's life together soon give way to severe concrete facades and the vicious abuse of jail wardens as the film's central struggle manifests in the beginning of the second act. Appalled at what has become of Austria under Nazi Germany, Franz implores in voice-over, "Oh my wife, what has happened to our country? To the land we love?" Franz is later imprisoned for refusing to serve in the Third Reich, leaving Fani to navigate raising three daughters, running a farm, and dealing with the sharp ostracism of her fellow villagers.
One of the most profound visual strategies used in this film is a segmented depiction of individual body parts that celebrates the "hidden" beauty and strength of lives left largely untouched by history, while making the moments in which the faces of Franz and Fina share the frame all the more powerful. A child's dangling legs wrapped up in a father's arms is all that is needed to communicate the depth of Franz' love for his family in a scene devoid of words or visible facial expressions. What could be a standard, drama-heavy train departure as Franz leaves for a military base in Enns, is instead a sparse, yet compelling send-off, with the scene's emotional gravitas embedded in its two-part visual depiction of hands: first when Franz and Fani's clutched hands are ripped apart as the train gains speed, and again as the camera follows her in the immediate aftermath of her husband's departure.
Fani's face is never shown in this private moment of grief like it is in earlier moments of husband and wife holding each other in the grass, which reminds viewers to deeply treasure the Jaggerstatters' moments together. Such intentional visual obscurity, consistent with the film's curation and emphasis on singular parts of the characters' bodies, might alienate a decent amount of critics and viewers. While reception of the film might be mixed, as was the case with the films that followed Malick's Palme d'Or-winning Tree of Life (such as To the Wonder and Song to Song), A Hidden Life's prayerful examination of the microcosmic lives of Franz and Fina Jagerstatter through its deeply philosophical narrative, the exploration and characterization of nature, and an extended use of voice over, is a haunting and gorgeous addition to the "Malickian" film canon.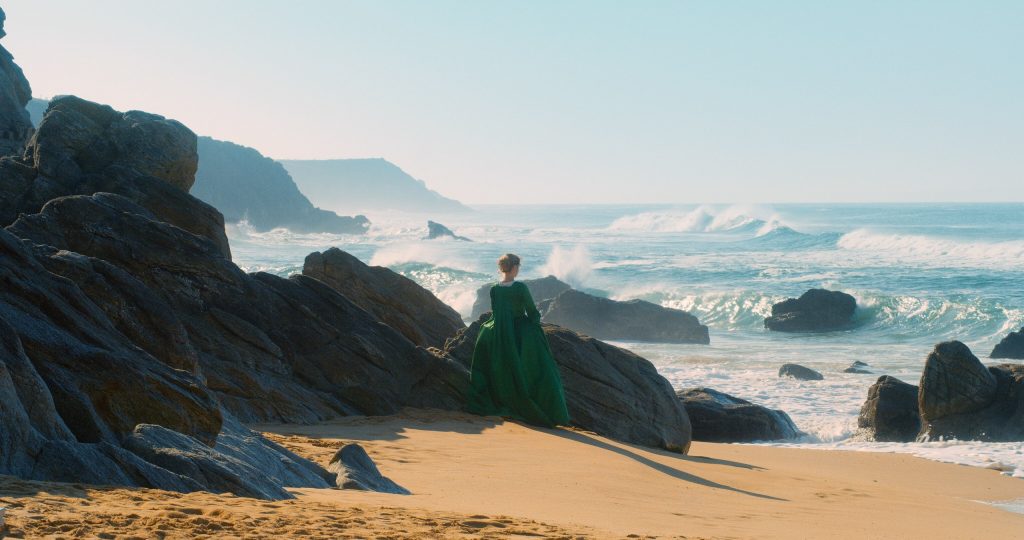 Juxtaposed with A Hidden Life's visual rendering of sweeping natural landscapes and its dramatic challenging of a romantic relationship by exterior forces, Portrait of a Lady on Fire seems to fit well within its predecessor's cinematic structure. Portrait's bright, aquamarine ocean swells dappled with foam complement the verdant expanses of A Hidden Life's Austrian countryside, while the complex, corporeal relationship between painter, Marianne, and headstrong subject, Héloise, has traces of the plaintive, anchoring love between the Jagerstatters, but Celine Sciamma infuses her unique directorial vision to create a stylized film that is all her own.
The film begins in a classroom, in which Marianne poses for a group of female painters. A student's passing question about a particular canvas in the back of the room – the titular "Portrait of a Lady on Fire" – opens wide the floodgates of Marianne's memory and catapults the narrative backward into the crashing waves and steep cliffed environment of a particularly challenging assignment: secretly painting the portrait of an absent model. Marianne is employed under the guise of being a companion to Héloïse, a strong-willed young woman with a reputation for being difficult to capture on canvas. Playing out across a series of private seaside walks, piano performances, candle-lit card games, and nocturnal sketching sessions, Marianne and Héloïse's intimate relationship revolves around authentic artistic depiction, growing in difficulty when Héloïse's conception of herself clashes with Marianne's artistic depiction of her.
In many ways, Portrait of a Lady on Fire rejects A Hidden Life's use of "corporeal segmentation" by highlighting the problematic inaccuracies that arise when the female body is viewed in pieces. Hands, a single ear, the back of a head overflowing in golden curls: these are the fleeting glimpses of Héloïse that Marianne has to work from to complete her portrait. The cinematographic direction emphasizes this singularity of bodily focus when Marianne paints; though it's difficult not to be mesmerized by the movements of her expert hands creating a face, collar bones, and hands from liquid pigments, it is clear that with every pause and tentative drawing back of the brush that Marianne's attempt to bring Héloïse to life, piece by piece, is a fruitless endeavor. Héloïse's shocked reaction to her not-quite-accurate portrait, cobbled together from individual pieces of Marianne's memory, gives voice to millenia of sculpted models and muses, inauthentically reduced to a cold amalgamation of body parts through the predominantly-male gaze of visual artists. The film encourages the audience to reject the flawed, segmented, framework of the first painting when Héloïse consents to sit for a second portrait, allowing her entire self to be holistically rendered, ultimately demonstrating that the female gaze functions as a way of viewing an individual in their entirety and with their consent.
When attending a film festival, it's easy to be overwhelmed by the sheer amount of narrative content to which one has access. However, among the throng of cinematic events and screenings, Terrence Malick's A Hidden Life and Celine Sciamma's Portrait of a Lady on Fire left an indelible mark on a multitude of viewers through the films' powerful narratives and visual metanarratives, as well as their unique ways of curating the body to strengthen how viewers approach each films' respective discourse on love and art.