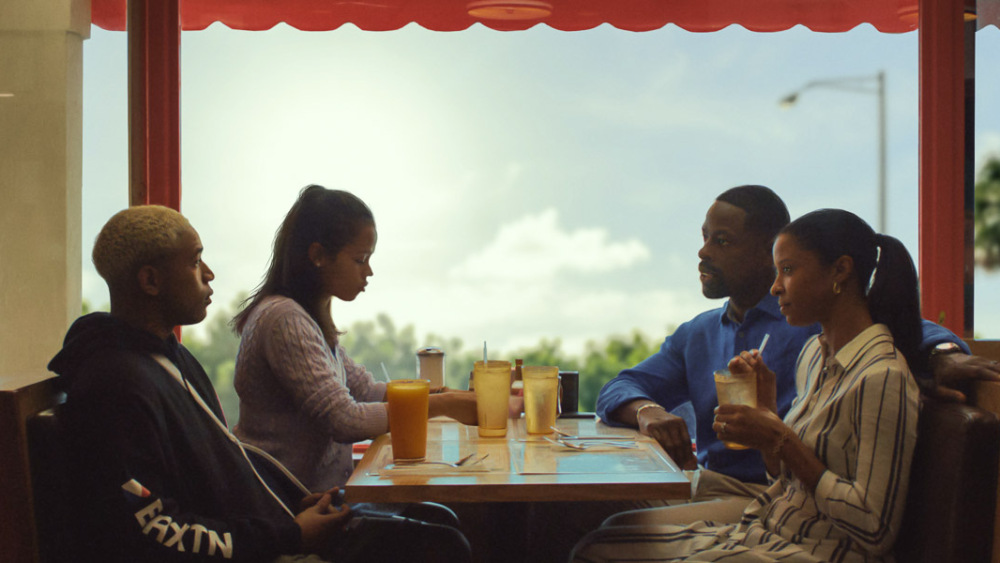 by Saku Gopinath
Despite a bone-chilling drop in temperature to mark the start of the week, the lines for Austin Film Festival's events were long, and the theaters comfortably packed for the various screenings taking place across the city. We waited, we talked, we watched. The films are the highlight for many attendees, and, apart from the small fiasco that was the botched screening of Portrait of a Lady on Fire, the films I saw delivered with beautifully rendered stories of love and loss. All of the films I watched spoke to the idea of family and depicted this concept in wildly different ways, but the one that stood out to me from the others was Trey Edward Shults's Waves.
Two weeks after watching the film, I could not stop thinking about it. The colors. The sounds. The camera so active that it becomes overwhelming at times. Waves begins with an explosion of color and life, looking at high-school athlete Tyler (Kelvin Harrison Jr.) and his girlfriend Alexis (Alexa Demie) as they careen down a highway toward the beach. We are bombarded by loud music and the roar of the wind as they race towards their destination, and we can see as the camera spins in circles within the car the dizzying, carefree love shared between these two. This energetic opening perfectly encapsulates Tyler, who believes he is untouchable in all his youthful glory—he's a star student and athlete with a girlfriend he loves. What could go wrong? The answer, as we discover, is a lot.
We begin to see Tyler interact with the rest of his family, and immediately there is a tension between Tyler and his father, Ronald (Sterling K. Brown), who is determined to push Tyler as far as (and maybe farther than) he can go. Tyler's stepmother, Catherine (Renée Elise Goldsberry), is a present figure who tries to balance her husband's ferocity with a comforting kindness, and Tyler's sister, Emily (Taylor Russell), is effectually invisible, pushed aside by her brother's success. The two try to be there for Tyler and support him, but they are no match for the force that is Ronald, who pushes him harder and harder in the misguided belief that this is how his son can succeed in a world that requires black men to work ten times as hard as their white counterparts. But then Tyler suffers an injury, one that ruins his chances at college and his father's dreams. From here, the film accelerates and grows more tense, fueled by threatening images of hurtling trains and overflowing bathtubs and frames of darkness interspersed with blurs of bright lights, culminating in the ultimate tragedy.
And then there is darkness. The aspect ratio tightens here from a widescreen ratio to 1:33 to demonstrate Tyler's life collapsing on itself. And then, surprisingly, the frame opens up.
We transition into Emily's life and find an entirely new story, one that was in front of us the entire time. The tone of the film changes here as all of the tension that bound Tyler's story evaporates. We are instead left with a stillness as Emily, a cipher for the family, attempts to pick up the pieces of her life and heal in the aftermath of all that has happened. Where darkness and artificial lighting filled Tyler's scenes, Emily is instead surrounded by a softer natural light that reflects her gentler nature as she tries to return to a sense of normalcy and find peace; the openness here leaves room for hope.
Eventually, she meets a boy, Luke (Lucas Hedges), and the film picks up pace once more, though it never reaches the breakneck speeds of Tyler's drug-induced daze. In a scene that eerily mirrors that of her brother, Emily is in the car with Luke and the camera spins in circles again, capturing their abundant joy; we feel fearful for her, that she may follow in her brother's reckless footsteps. But though she indulges in drugs and plays hooky, Emily is not her brother, and she is careful with the joy she has painstakingly created for herself. Towards the end, Emily and Luke are forced to confront the ghosts of their pasts and grapple with forgiveness and what it means to move on. And as they work towards that, in some sense, both characters and audience achieve peace.
Waves is a movie about family, but on another level, it's a movie about decisions, the decisions we make as individuals, as family members, as lovers, and how those decisions have lasting effects on our lives. The characters are asked to deal with forgiveness, but we, the viewers, are also left to consider these notions after connecting and empathizing with them. How have we handled grief and betrayal in our lives and are we proud of the decisions we've made? We leave the theater with these questions in mind, and that is where the film gains its power.
Waves is necessarily cinematic because of its use of colors and cinematography to confer energy and emotion onto the underlying story, but even more so due to its largely being a series of vignettes strung together by Shults, from one as grand as a kiss in an ocean under wide skies to another as intimate as applying lip gloss in a bathroom mirror. The way these moments in time are brought together to create a narrative to be interpreted by the audience can only exist as a film. The beauty of Waves, in my opinion, comes from the way Shults creates connections between these characters through his visuals: for example, the mirrored shots of Tyler and Ronald driving towards the party, or the balanced shot of Ronald with Emily by the lake. The composition of these images pulls viewers ever deeper into his work. I would highly recommend everyone see it.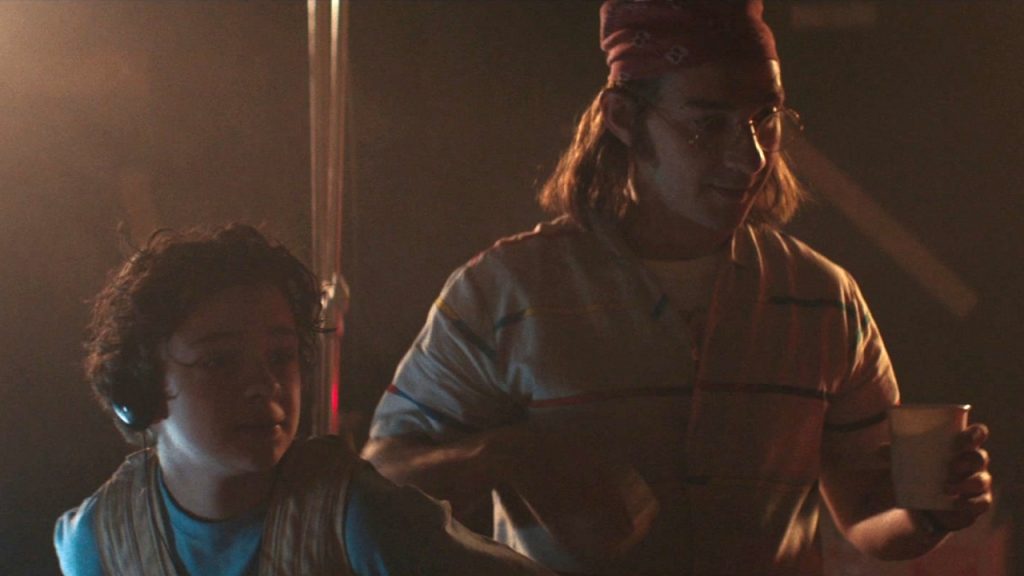 Honey Boy, a film by Alma Har'el, similarly looks at a tense father-son relationship. It tells the story of Shia LaBeouf's relationship with his father as a child and how it affected him as a young adult. His father, James (Shia LaBeouf), much like Ronald, pushes his son, Otis (Noah Jupe), who is essentially the breadwinner of their two-person family. Where there was space between Ronald and Tyler, however, there is none between James and Otis. Crammed together in their shitty motel room, James is confronted everyday with his failures as an individual, supported as he is by his young son, so he lashes out at Otis, belittling him and mocking him so mercilessly that your heart cries out for the kid. Otis, however, is an actor, and he does his best to appease his father. We see the toll it takes on him as a young adult (Lucas Hedges), as he tries to heal from the PTSD with which he is diagnosed.
While Honey Boy is certainly a heartbreaking film, there is beauty and love to be found within it. Colors are used quite freely here as well, but in Honey Boy, it's used to create beauty in the desolate motel on the outskirts of LA. A haze of neon lights suffuses scenes between Otis and his kindly prostitute companion Shy Girl (FKA Twigs), and though it has the potential to become perverse, the film stays away from that and instead gives us touching scenes of pantomime baseball that appear almost dream-like.
As a young adult, Otis struggles to achieve some peace for himself, and much like Emily, he is surrounded by natural light as he works through his feelings in a posh rehabilitation facility; however, he returns to the darkness of his past in his dreams of his father. Even in the end sequence when he meets with his father at the motel and announces he's planning to write about him, we cannot tell, in this space of darkness and streaks of light, whether what we are witnessing is real life or simply another dream.
Honey Boy has beautiful visuals, but without a knowledge of Shia LaBeouf, this film may not be as compelling since its alluring power comes in part from its existence as an act of therapy. We are in some ways watching LaBeouf actively work through the trauma surrounding his relationship with his father. This vulnerability especially works on a deeper level for those who have watched him grow up in the spotlight and come into the film with a pre-existing connection to the actor; however, I argue that the performances alone make it a revelatory experience. Shia LaBeouf playing his father is simply riveting.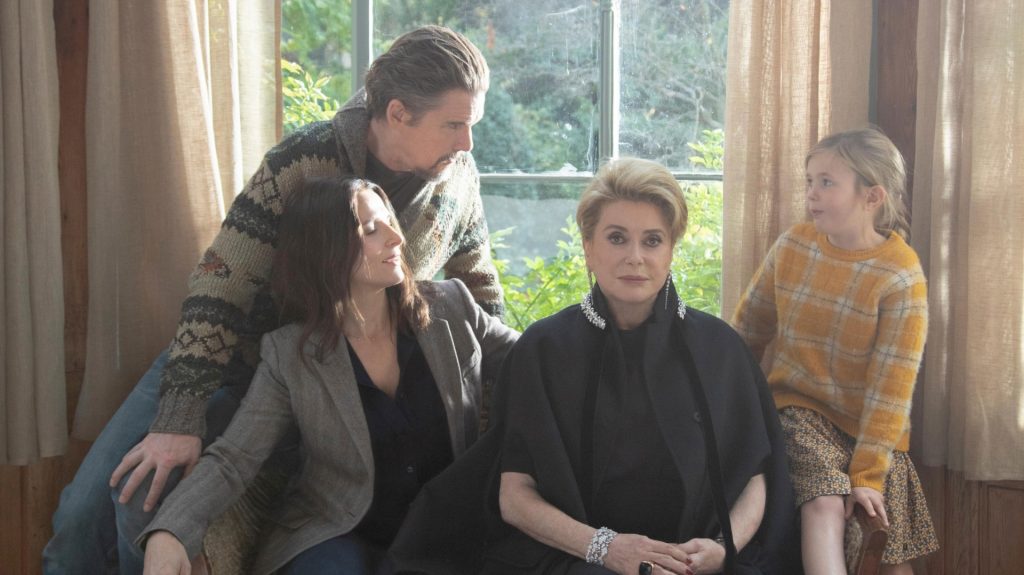 The Truth, by Hirokazu Kore-eda, is another film that explores the concept of family, but without the daring of Waves and Honey Boy. The Truth follows the tortured relationship between Fabienne (Catherine Deneuve), an older, celebrated actress, and her screenwriter daughter Lumir (Juliette Binoche). Fabienne has spent her life concerned with being a great actress and neglected Lumir in the process, so the time for reckoning has come. But that moment never fully arrives.
Instead, Kore-eda plays with the idea of truth using Fabienne's fictitious memoir and her movie-within-a-movie, where she must essentially play her daughter, to push these characters to consider each other. In the end, all we see is that they each hide behind their respective devices (acting and writing) and never really come together in a moment of full honesty. The audience is denied that moment of catharsis and its accompanying sense of satisfaction.
While The Truth is witty and fun, the film as a whole lacks any sense of dynamism or growth. Do they better understand each other by the end? We cannot know with any certainty. The Truth feels very French, bathed in natural light and wistful, and it does this well. I especially think Deneuve does an incredible job here as a regal, larger than life diva, but even that is not enough to elevate the film past the realm of pleasant and enjoyable.