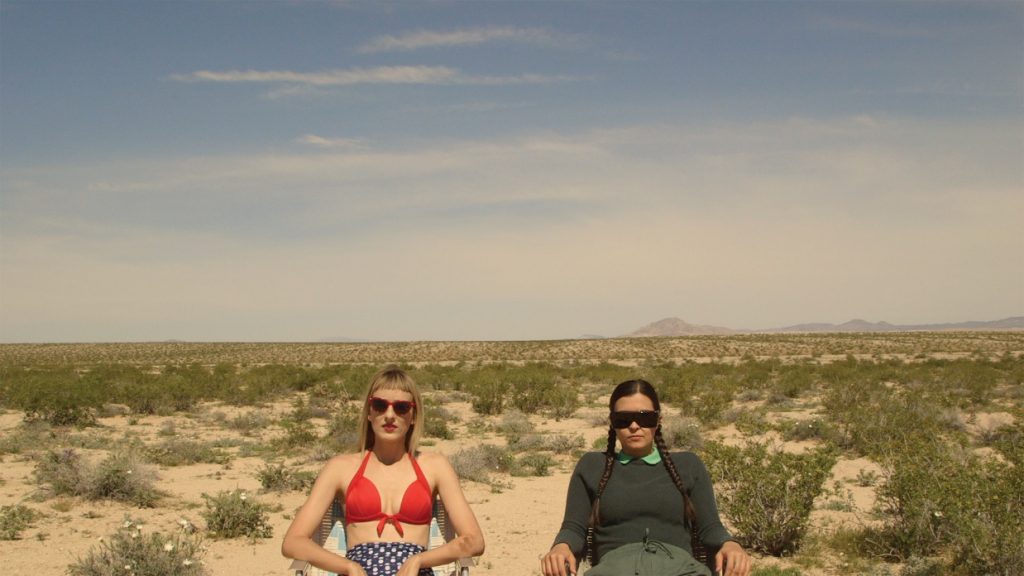 by Madeline Hawkins
An Austrian conscientious objector struggling during World War II, a boy and his father in a motel in 2010, and a psych patient in the desert are connected in ways beyond that their narratives are all shared at Austin Film Festival. These exceptional stories – respectively, A Hidden Life, Honey Boy, and The Planters — taught me that sometimes we must be shown the ugly things in life in order to recognize the beautiful. This dynamic quality is used uniquely in each film. A Hidden Life shows us that our suffering is always worthwhile if it means that we can stay true to our moral convictions. The Planters recognizes the innate need for family and balance, no matter who we are. And most potently, Honey Boy teaches us that we all cope differently, but that everyone has their own story and deserves their own form of therapy.
Alexandra Kotcheff and Hannah Leder, the brains and the beauty behind the operation of The Planters, tell the story of two women—one an orphan and the other a recently-released patient of a psych ward—and their journey from housemates (yes, that came first) to friends. These women, impressively serving as directors, writers, cinematographers, producers, actors, sound producers, and makeup artists, reveal every human's innate need for connection and family through their use of dynamism and symmetry—or lack thereof. Dozens of scenes feature architectural design, showing buildings and areas either perfectly symmetrical or quite visibly lacking a certain piece that throws it out of balance. Similarly, Kotcheff and Leder utilize a number of two-shots, which either have both actors balancing the scene or a clear void missing (with one of them gone). The vast, yet empty scenery in the outdoor scenes, contrasted with the unbelievable closeness within the women's home, reflects this same idea. Without someone else in our homes (or lives), we feel empty. The Planters shows that balance and family are needed, no matter who they're comprised of, for fulfillment and happiness.
Terrence Malick's stunning visuals in A Hidden Life opened my eyes to one of many untold stories of World War II. The film, which could have operated almost equally as well without any dialogue at all, illustrated the beauty of the natural world and the importance of perseverance and integrity. The main character, Franz Jägerstätter, is an Austrian man who refuses to swear loyalty to Hitler or participate in Nazi efforts. He lives in a beautiful, vast village with his family and works as a farmer, which operates as a chance for Malick to showcase the power of the natural world around him. At a certain point in his refusal of the Nazis, Franz is imprisoned and placed in a small, decrepit prison cell. He suffers physical abuse and a remaining life of sorrow there, which could have easily disappeared with a single admittance of loyalty. He's eventually killed, leaving behind his wife and small children, solely because he refuses to give in to Hitler's regime.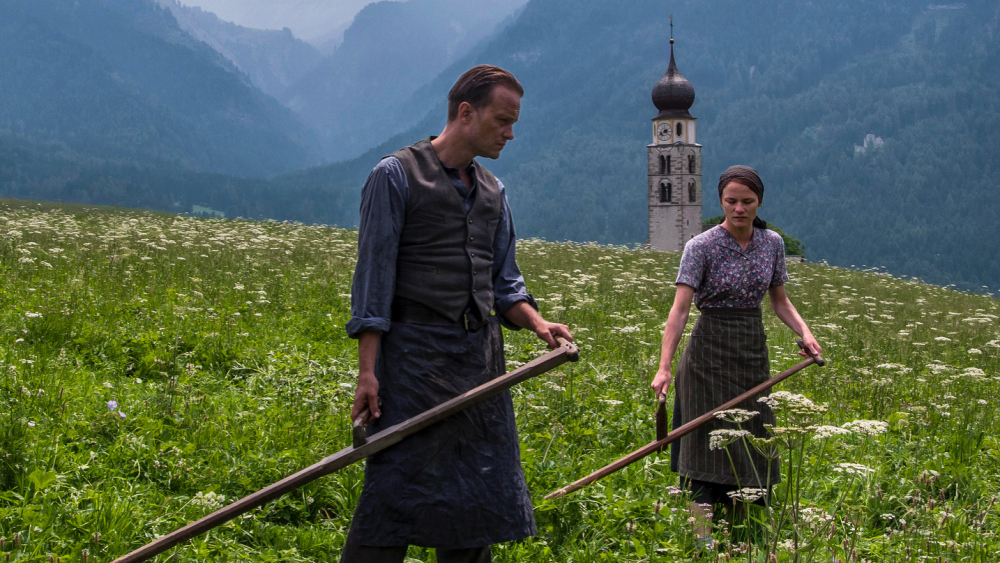 As Franz waits for execution on a bench in a dark, enclosed area, he recalls a time right before he met his wife. The film cuts to a scene of him on his motorcycle, carelessly riding through the vast, bright, Austrian mountains. The film cuts back to the barn and shows Franz one more time before his death. The magnificent contrast—a form of dynamism—shown between Franz's life in jail and his life before jail, which was surrounded by the great power of nature itself, illustrates the importance and beauty in one's sticking to their own beliefs and priorities. This juxtaposition shown by Franz's sacrifice in jail further expresses how much he cares for the natural world which he's taking a stand for.
Franz is also a religious man, and it always seems that these unbeatable forces of nature are at bay. He trusts his belief and instinct till his last moments, trusting that the creator of these beautiful Austrian mountains is greater than Hitler and his ability to control the inhabitants of these mountains.
Both A Hidden Life and The Planters surprised me and opened my eyes to the unlikely power and lessons of films I may not have otherwise viewed if it weren't for their inclusion in Austin Film Festival. Additionally, the even more poignant and beautifully told Honey Boy taught me that everyone has a unique story that deserves to be told. It taught me that we all find therapy in our own ways.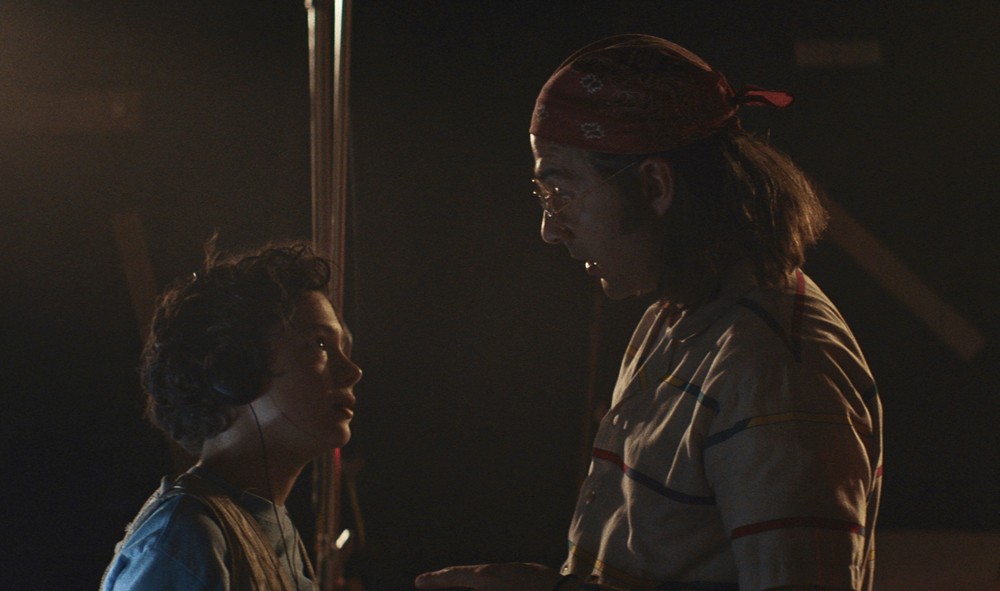 The story of Honey Boy, written by Shia LaBeouf, details his upbringing in the spotlight while living in a motel with his father and the later impacts of this on his young adult life. He plays his own father in the semi-autobiographical film and shies away from nothing to tell of both his father's and his own shortcomings. The film switches between the character based on Shia as a child (played by Noah Jupe as "Otis") and as a teenager (played by Lucas Hedges) in a rehab facility, slowly revealing why certain childhood experiences contributed to his downfall. There were times that young Shia—Noah Jupe—was a happy, joyful child, which were starkly contrasted by the way he ended up—an anxious, confused, depressed young adult. Both the transitional and emotional scenes are shot in handheld, which places the viewer firsthand in the story. It's almost as if they are in the room and sharing the same experiences.
Honey Boy contrasts both what it's like to be a child and an adult, and the ways in which we deal with trauma and abuse at these very different life stages. A representative example that contributes to this inherently dynamic film (alternating between the young and old phases of Shia's life) are a memorable series of scenes at the end. There are two different shots, the first being of the young boy acting in a TV show alongside his on-screen father who acts as an exemplary parent. The second shows the boy and his real father in a screaming argument, with his father acting opposite of the man in the previous scene. The shots alternate back and forth, acting as a way to summarize the message LaBeouf delivers throughout the film. He stops at nothing to detail his struggle of outshining his self-conscious father who, at times, seemingly only wanted the best for his son. The back-and-forth scene style gives a deeper understanding of how the accumulation of seemingly small actions and words can lead to immense darkness later in life. LeBeouf gives each viewer their own therapy session by creating his own.
The Planters, A Hidden Life, and Honey Boy employ contrast and dynamism to relay vastly different messages. The first highlights the importance of balance and family, whereas the second recognizes the value in staying true to belief. The third offers an opportunity to recognize the value a story as a means of catharsis and a form of therapy, teaching viewers that we all cope differently. All three were incredible showings at Austin Film Festival and deserve the chance to be seen by a wider audience.