by Ryan Adams
In twenty-first century America, there is increasing momentum across various sectors for people who have historically been marginalized to take back their narratives. This reclamation is something familiar to us because instinctively we seek to rise up against oppressive forces whose intent is to keep us in our place. We are accustomed to this concept of protagonist vs. antagonist as a basic plot model of storytelling. There is something to be said regarding the continued, if not increasing, production of films tracing this very concept of identity and personal narrative reclamation at a time when society has never before been so polarized. Director Kasi Lemmons offers us a film that ruminates on an iconic reclamation of individual identity and the liberation of an oppressed people in Harriet. Though a story from history, Lemmons aims to educate audiences on the social climate of the present by calling the past to their attention. The result is as emotionally moving as it is compelling.
Lemmons brings to life the legend of Harriet Tubman (Cynthia Erivo) in Harriet, where she takes a straightforward approach in telling Tubman's story visually and narratively. However, while many people are at least partially aware as to who Harriet Tubman was in history, Lemmons employs visual diction to bring audiences into the lived experiences of one of abolition's fiercest leaders. Such transposition not only functions effectively in terms of crafting Lemmons's metanarrative, but it augments empathy in the hearts of people seemingly long-removed from a most virulently racist time in American history.
Throughout Harriet, Lemmons structures the frame of her shots quite intentionally. She keeps Erivo centered in a significant amount of the shots ensuring she maintains every bit of agency and authority white America stripped away from her. Formally, this could be described as giving Erivo near-constant legibility so that the audience never questions who has the authority in this film. While Harriet is about Harriet Tubman outright, it is also about her journey to freedom and her contributions to then help others to freedom of their own. Lemmons crafts the cinematography of this picture in a masterful way to make legible an entire people who historically were deprived of their autonomy. This does not function ahistorically but more as a shift in perspective from white America to the enslaved people on whose backs it stood.
Another formal choice Lemmons uses to achieve this is the two-shot, or a shot with two people in the frame. Many two-shots feature Erivo and another character, typically people with some connection to her journey to freedom. These two-shots are almost always balanced, in that both characters occupy the same amount of the mise-en-scène (or that which is seen in the frame by the audience). My read on this is that Lemmons aims to visually narrativize the communalized network of the abolition movement. In particular, a memorable two-shot that does just this presents Erivo in the frame with the pastor, and the two sit in near-profile, giving legibility to only part of who they are. Lemmons constructs this two-shot in this way because it functions as a moment of reflexivity between an enslaved person and a freed person, while also showing that despite their differing statuses, they share a common experience of race-based prejudice. Moments like this work to support Lemmons's metanarrative, which calls into question the extent to which racial injustice persists today despite an absence of the historically understood convention of "slavery."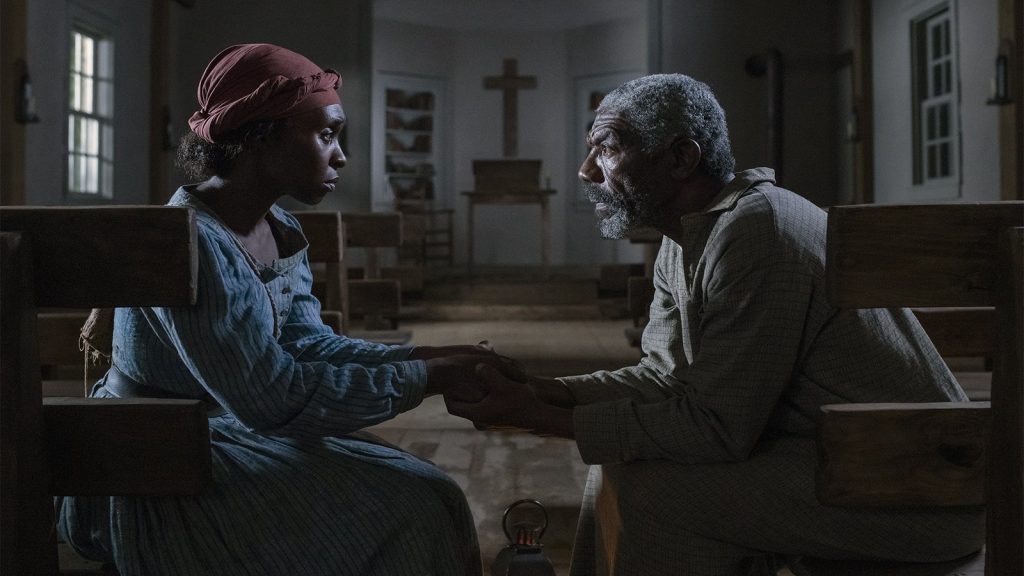 In addition to visual diction, Lemmons also showcases religion cinematographically as the common thread among enslaved people and the abolition movement. Religion defines the status of a person in this film's argument. Religion-centric dialogue, religious characters, and supernatural events play a central role in Harriet, Lemmons uses religion and spirituality as a sort of language, specifically when Erivo communicates with the other enslaved people through spirituals. This appeal is not entirely political because it is supported by history. Historically, religion has been used by both abolitionists and staunch slavery advocates to advance their positions. As Lemmons visually authors a communal mobilization by way of the spiritual throughout Harriet, so too does hatred that sounds like divine authority mobilize the masses around a position in society today. Perhaps Lemmons wants us to understand the power of common identity, as it is utilized by the privileged or the oppressed.
Remaining still is the question: "Why?" Why this film and why now? Aside from the timelessness of the bravery and resilience of Harriet Tubman, this film is in conversation with the world today. Lemmons successfully offers a statement on the status of race in the context of the present by visually commemorating Harriet Tubman's story in the present. Though time stands between Harriet Tubman then and this film now, the parallels between could not be more apparent. People of color are still in many ways subjected to the systemic inequality that is depicted in this film. Resultantly, Lemmons's metanarrative poses a necessary question: what is the role of white America? Harriet makes no such assertive statement in response to this question. Instead, viewers can consider this question in light of what they see in the film but also how they live beyond the theater.
Now, more than ever, our inhabiting a society tainted with the perils of racism, slavery, and pervasively systemic inequality warrants the continued discussion of what it means to be free and equal. Harriet is a modern retelling of the historical lengths to which the human condition will go to be free, to be unrestrained by systems or governments or masters. Lemmons not only restates history, but she also crafts a visual narrative capable of challenging privilege and spurring change in the hearts of audiences. Formally, this film's excellent cinemaphotography minimizes risk-taking and thereby reduces overstatement of the story and instead allowing the story to speak for itself within the frames.
Harriet is a strong achievement by Lemmons. It is formally stunning, rich in narrative, and a timely indicator of the social progress still to be made for racial equality. For audiences, it is an invitation to look introspectively. If nothing else, Lemmons presents audiences a space to journey alongside Harriet Tubman and the many she led to freedom. This film cannot rewrite the past. But it can give audiences a chance to momentarily stride in a perspective long repressed. Considering perspectives different than our own is where we begin. If we can see ourselves in each other, there is hope.