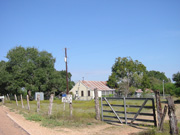 Article in Houston Chronicle reports on TGDP interviews in Fredericksburg. Click here for article text.
Hans Boas is interviewed about Texas German for the show "As it happens" (produced by the Canadian Broadcasting Company), which airs on many public radio stations across the U.S. Click here to listen to the interview.
News release about the TGDP on the UT Austin home page, please click here.
Article in San Antonio Express-News reports on the fading German language in the Hill Country. For article, click here.
Article in Fredericksburg Standard-Radio Post reports on TGDP fieldwork in Doss, on January 12, 2006. Please click here.