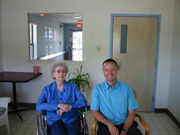 First TGDP newsletter is published. Click here for an electronic version.
Article in Directions/The Magazine of the Texas Hill Country reports on the TGDP. Click here for the article.
Article in Fort-Worth Star-Telegram reports on the TGDP. Click here for the article.
TGDP featured in Austinist. Click here.
Article on the Texas German Dialect Project is distributed by the Associated Press. It is featured in more than 70 newspapers in the U.S., Canada, Australia, the U.K., and France. Click here for article. Click here for the interactive video (search for Texas German).
Article in Austin-American Statesman reports on the TGDP as a part of an overview of research projects at UT Austin. A video about the TGDP explains the goals of the project. Click here for the video.
Hans Boas receives the Hugo-Moser Prize for Germanic Linguistics for his work on Texas German. The prize is awarded by the Institut für Deutsche Sprache ("Institute for the German Language"), a federally-funded research institute concerned with the documentation and analysis of contemporary German.
TGDP publication: "From the Field to the Web: Implementing Best-practice Recommendations in Documentary Linguistics" (Hans C. Boas) appears in the journal Language Resources and Evaluation. Click here for the article.
Story about Texas German airs on KUT Radio. Click here for the sound file.