Teaching
Since 1994, I have taught a variety of linguistics courses at the University of North Carolina at Chapel Hill, the University of Texas at Austin, the University of Bergen (Norway), the Humboldt University in Berlin (Germany), and the European Viadrina University in Frankfurt/Oder (Germany). The following is a list of undergraduate and graduate courses that I have taught.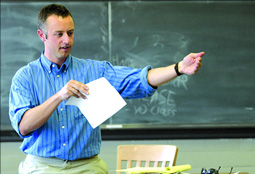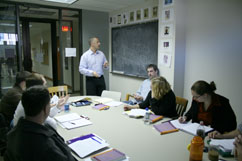 ---
Graduate Courses
English and German Morphology
German Syntax
Phonology-Morphology Interfaces in English and German
Rhetoric & Stylistics
A Linguistic Approach to Political, Social, and Cultural Opposition: The Case of Texas Germans
The Acquisition of English and German
Introduction to Synchronic Linguistics of English and German
Contrastive Lexical Semantics
Language Contact and Language Death
Contrastive Syntax of English and German: A Construction Grammar Perspective
Expanding Construction Grammar and Frame Semantics
Frame Semantics
---
Undergraduate Courses
Introduction to Language
Language and Society in the German-speaking Countries
Introduction to Germanic Linguistics
Advanced German Grammar
Language and Politics
Documentation and Analysis of Texas German
Sprache und Politik
The Texas-German Experience
The Texas German Dialect
German I
German II
---
Former Ph.D. Students
David James, Ph.D. 2003 ("The Second Generation: Language Use among Migrants in Berlin"). Currently employed as Lecturer at the University of Pennsylvania.
Heiko Wiggers, Ph.D. 2005 ("Dialect Death on the German/Dutch border"). Currently employed as an Associate Professor at Wake Forest University (tenured).
Karen Roesch, Ph.D. 2009 ("Texas Alsatian: Henri Castro's Legacy"). Currently employed as Assistant Professor, Hoyt-Reichmann Scholar of German-American Studies, and Director of the Max Kade German American Resource Center at Indiana University – Purdue University at Indianapolis.
James Kearney, Ph.D. 2010 ("Friedrichsburg by Friedrich Armand Strubberg: Translated and Annotated by James C. Kearney"). Co-supervision with Janet Swaffar. Currently employed as lecturer at the University of Texas at Austin.
Guido Halder, Ph.D. 2011 ("A frame-semantic approach to selectional restrictions in German Support Verb Constructions: The case of [in X geraten]"). Currently employed as Assistant Professor at Washington and Jefferson College.
Anja Moehring, Ph.D. 2013 ("Argument marking with prepositions in German: A constructional approach to 'auf' ('on')"). Currently employed as lecturer at Baylor University.
Maggie Gemmell, Ph.D. 2015 ("Semantic role alignment in metaphor: A frame semantic approach to metaphoric meaning.") Currently employed as Adjunct Instructor of German in the Division of Humanities and Culture at Southern Oregon University.
David Huenlich, Ph.D. 2016 ("The roots of multiethnolects: Effects of migration on the lexicon and speech of German"). Currently employed as a junior researcher at the Catholic University Eichstaett, Germany.
Ryan Dux, Ph.D. 2016 ("A usage-based approach to verb classes in English and German"). Visiting Assistant Professor of German and Linguistics at Bucknell University (2016-17), Mellon-Postdoctoral Fellow at the Institute for the German Language (2017-2018), Employed as Assistant Professor (tenure-track) at Sam Houston State University (since 2018).
Annika VanNoy, Ph.D. 2017 ("Culture-specific aspects of semantic frames in multilingual frame descriptions"). Employed outside of academia.
Alexander Lorenz, Ph.D. 2018 ("Beliefs about grammar instruction among post-secondary second-language learners and teachers"). Employed as Assistant Professor (tenure track) at the University of South Carolina (Upstate) (since 2018).
Margo Blevins, Ph.D. 2022 ("

The language-tagging & orthographic normalization of German-language contact varieties

"). Employed as postdoctoral researcher at the University of Texas at Austin (since 2022).