The purpose of this basic training is for familiarizing yourself with scanning pages of documents that professors may bring to the office. The scanner used in the office is the EPSON PERFECTION V700 PHOTO.
Step One: Setting up the Scanner
For scanning one page:
Lay the page in portrait orientation face-down on the scanning surface. 

Push the page to the top right corner.

Close the scanner once the page is in place.
For scanning a two-page spread:
Lay the spread vertically on the scanning surface.

Push the corner of the page to the top right corner.

Close the scanner once the spread is in place.

If the book or magazine is too bulky for the scanner to close, the pages can also be scanned with the top of the scanner opened.
Step Two: Settings
Open up the EPSON application on the computer connected to the scanner.
Make sure you are in "Professional Mode"

Document Type: "Reflective"

Document Source: "Scanner Glass"

Auto Exposure Type: "Photo" for photos, "Document" for magazines and book pages

If scanning in color: "48-bit Color to Highlight detail"

If scanning in grayscale: "16-bit Grayscale"

Resolution: "300 dpi

"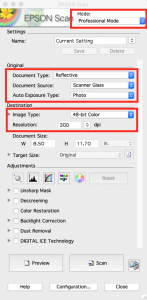 Step Three: Test Scan
Click on "Preview" to see how all the scan shows up.

Then click "Scan".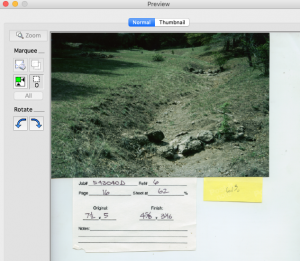 Step Four: Saving
Save as

.tif

to avoid compression.

NOT MULTI-TIFF

Work from .tif files and only save final versions as .jpeg for professor unless they request .tif format files.

Sometimes clients can pay for extra editing to refine/recolor the image. To do this you would make the adjustments in photoshop following along the "PSD Color Correction" basic training. 

In your STA Basic Training folder for Page Scanning, upload your scanned pages with appropriate titles.

In Basecamp post the pathway to your images and include a PNG of your scanned page.