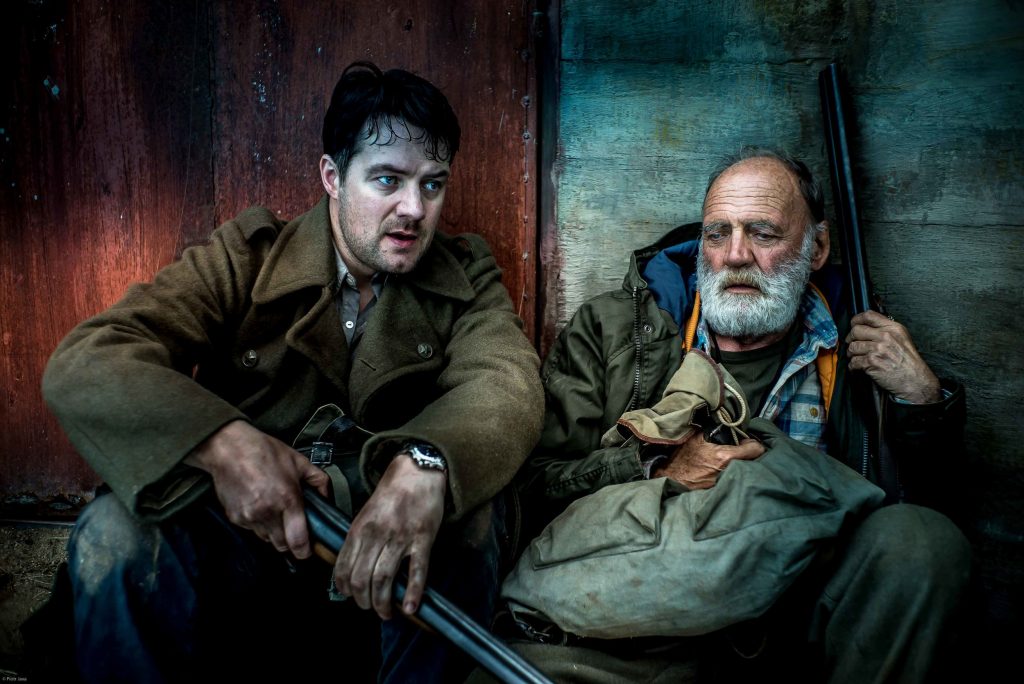 by Arvind Ashok
The protagonists in each of the three films I saw at this year's Austin Film Festival — Scott Z. Burns' The Report, Mitko Panov's The Witness, and Daniel Destin Cretton's Just Mercy — capture an earnest and dogged pursuit of justice, a compelling characteristic in a time where depictions of honest, moral public servants in media like The West Wing and All the President's Men seem dated and in need of an update.
In The Witness, Vince Harrington, a young and idealistic Hague employee, ventures to Macedonia to find the reclusive and aging Nikola Radin, who is needed as a witness to convict a notorious war criminal. His journey is marred by a hostile government intent on not letting Radin testify. Then there's the problem of Radin himself, who the film portrays as living in an isolated area with his young adult daughter.
Many individual elements of the film are sufficient to spark intrigue, but it suffers from tonal and thematic disjunctions that dull its impact. The film establishes a charming mentor-mentee rapport between Harrington and a senior judge at the Hague, leading one to believe that the film will focus on Harrington changing her ready-to-give-up attitude by finding Radin and proving the value of legal institutions. However, the film quickly throws this relationship away and turns into a middling action movie, complete with two companions the government assigns to Harrington that oscillate between idiotic and vaguely threating. Then, as Harrington tears off on his own to find Radin and escape with him and his daughter (a character who receives minimal development), the film shifts again, turning into an array of top shots and extreme long shots of a melancholic natural landscape. The characters frequently appear in silhouettes as they journey through the woods, especially as they rest in a cave. Panov, in these shots, seems to want the film to be a quiet and reflective journey about what bringing justice to war criminal entails.
As darkness and wilderness consume the frame, the film evokes a sense of how survivalist conditions — in war and in nature — work to decay moral reasoning and promote a loss of self. However, this theme never fully develops, and it's unclear if there's a coherent message about justice Harrington or the audience can gain from his experience.
Unlike the mixed messages The Witness sends on its lead's persistent idealism, The Report leans into it full force. Adam Driver — a hot commodity at the moment, appearing in Noah Baumbach's Marriage Story and Star Wars — delivers a superb performance as Daniel Jones, an employee of Senator Diane Feinstein tasked with compiling a report on the torture carried out post 9/11 by the Bush Administration. Driver channels the steely resolve of Dustin Hoffman's Carl Bernstein and dials it up with a domineering physicality and impassioned arguments against the effectiveness of torture.
As a rare Driver skeptic, I found him phenomenal in this role. So much of the movie is him arguing with Senator Feinstein and various CIA-adjacent operatives, and yet it never fails to be riveting because of how convincingly the film portrays Jones as a man working with seemingly the entire government as an obstacle.
The film provides nothing too visually engaging, but the direction is functional; Each of the film's conversations — and there are many — play as a power struggle anchored by close-ups of Driver's sullen and determined face. In Senate hearings, we look up at the Senators elevated in their chairs. The hero, it is implied, is oversight and accountability peering down. The settings remain sparse and maintain a government meeting-room sterility, which evokes a sense of paranoia and secrecy throughout the film. Much of the film takes place in enclosures, especially the windowless CIA room where Jones is left for many years to comb through records of "enhanced interrogation" on a computer. Jones is frequently boxed in visually by the furtive spaces he inhabits (no doubt a representation of the constricting arm of the CIA seeking to protect its reputation), but paper, the thing he retorts "helps us keep track of laws" after being told by a CIA employee that paper tends to lead to trouble, is his ally and shield.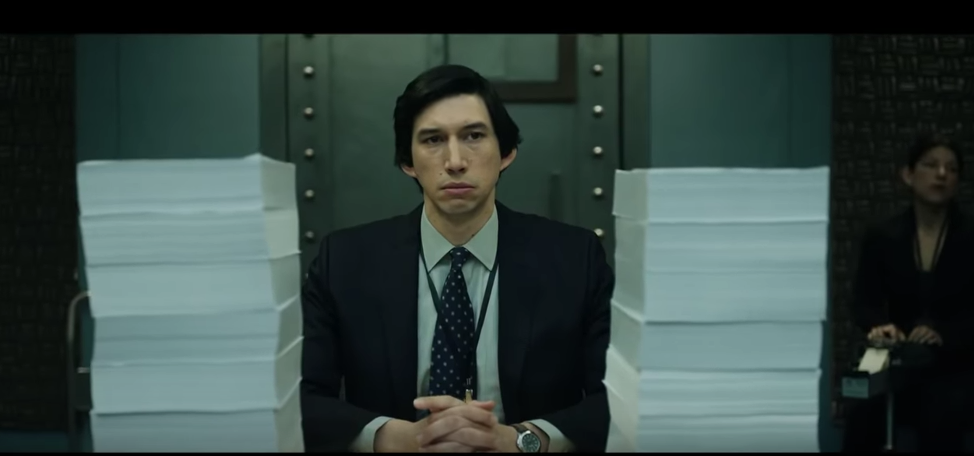 Another simple but effective visual element is the film's use of light, which shines especially brightly on one of the film's authority figures in a key moment, reminding them of their responsibility to "shed light on" the harm caused by past mistakes.
The film's depiction of torture, however, grows tiresome. The inexperienced psychologists responsible for selling enhanced interrogation are portrayed as macho, greedy goons, and while the characterization may be true, the film wastes far too much time flashing back to them selling and executing torture techniques. An inevitable comparison point here is Kathryn Bigelow's Zero Dark Thirty, an acclaimed but controversial film that The Report directly calls out for advancing a false narrative about the utility of torture in killing Osama Bin Laden. Unlike Bigelow's film, The Report isn't concerned with lingering on the guilt and pain associated with the act of torture. It plays loud metal music over the torture scenes, meant to mirror the loud music detainees were subjected to, but this only helps depersonalize the affair. Despite Zero Dark Thirty's allegedly pro-torture stance, the handheld camera in its torture scenes and the ways in which the viewer is forced to identify with the torturer taking prolonged looks at the victim invite a reckoning with the moral costs associated. In The Report, no such self-reflection is invited: anonymized victims are merely subjected to cruel acts, and we move on. The differences in depictions of torture is emblematic of the differences in the two films, which should no doubt be viewed as companion pieces featuring similarly uncompromising protagonists working towards very different goals. The Report has a clear idea of who the good guys and bad guys are, and is so intent on proving it that it never lets us see too much of its character's interiority. Zero Dark Thirty, meanwhile, probes Maya's internal state thoroughly but skimps on facts. Despite perhaps being more concerned with telling a political story than being morally testing cinema, The Report accomplishes the tasks of education and entertainment very well, providing a main character that is downright inspiring in his fiery quest to see the truth be told.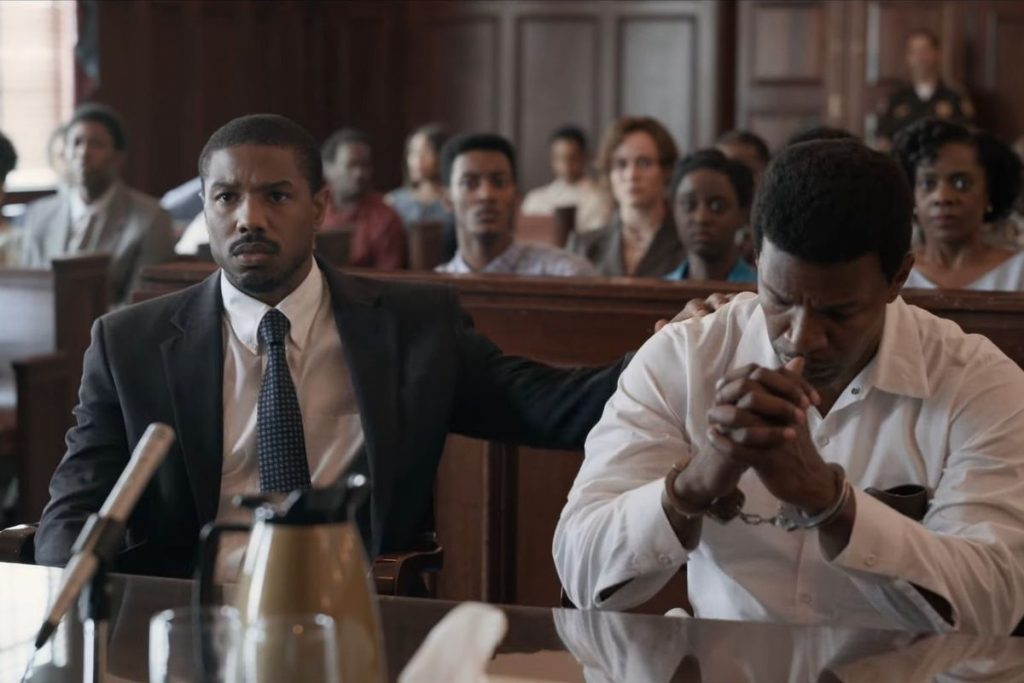 Just Mercy features esteemed lawyer Bryan Stevenson on a similar quest for truth played by Michael B. Jordan, who phones in much of his performance. The emotional beats of the story are familiar but powerful: Stevenson arrives in Alabama to help Walter McMillan, a wrongfully convicted man brilliantly played by Jamie Foxx, get off death row.
Despite the generic feel of both the script and the direction, the moving nature of the actual story grounds the success of the film. The evidence behind McMillan's conviction is so obviously terrible that one would accuse the film of a lack of nuance if were purely fictional, but since it isn't, a pervasive sense of injustice abounds throughout. The scenes inside the prison housing McMillan and other death row prisoners are particularly affecting, as the film often shows them in close-ups, obscured from full visibility to each other and the audience by prison walls. Despite being filled with platitudes like "we can change this world for the better," Just Mercy manages to be worthwhile just based on the emotions etched into Jamie Foxx's face during these scenes alone.