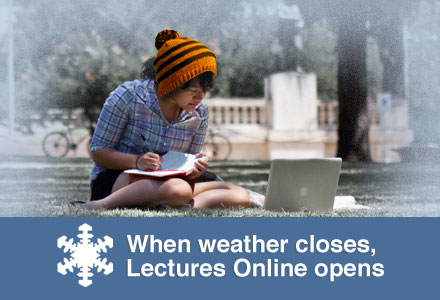 Due to the large number of inclement weather days The University of Texas at Austin experienced this semester, the College of Liberal Arts and the Office of the Provost are offering all UT professors teaching this term the opportunity to use the Lectures Online system to record classes that they missed due to the closures of campus. This project is overseen by Liberal Arts Instructional Technology Services (LAITS).
To put it another way, you may use this system to make recordings of class lectures for your students to review outside of the normal class time, instead of racing to fit everything into the remaining days of the semester.
These recordings can be setup in a number of ways depending on what you need to record and your schedule. After you fill out and submit a support request, LAITS will contact you to figure out the best way to produce your recordings. Once recorded, the items will publish into your Blackboard, Canvas or other LMS page for your students to review. The recordings will be streamed (not downloaded) behind an EID authentication.
You may view an example of an Echo360 lecture capture recording here.
Just so you know, you retain the rights to the use of the recordings, and your students will have complimentary, online access to them through the last day of finals.
If you are interested in signing up to use this service or if you have any addition questions, please click here to submit your request.
Thank you.
If you are interested in learning more about the Lectures Online system (including which classrooms on campus are currently equipped with it) feel free to look over this website.
Complete list of Inclement Weather days for UT Austin (2014 Spring)
24 Jan – Friday – Full closure
28 Jan – Tuesday – Full closure
06 Feb – Thursday – Open at 10 a.m.
07 Feb – Friday – Open at 5 p.m.
11 Feb – Tuesday – Open at 10 a.m.
04 March – Tuesday – Open at 11 a.m.
Inclement weather recording signup/additional questions request