By Pamela Neumann
A few weeks ago, I had the opportunity to attend the annual winter meeting of Sociologists for Women in Society in New Mexico. Despite a fair amount of experience at professional conferences, this was my first time to attend an SWS meeting and I was admittedly nervous. Within the first hour, however, I realized that I had no reason to be. During the two days that followed, I met a diverse range of feminist scholars who in different ways made me feel at home. Women who asked me thoughtful questions and shared openly, not only about their research, but also about other aspects of their lives. In the midst of serious conversations about current and future feminist scholarship and projects for justice, we ate (huge) leisurely meals, did yoga, hiked, sang, laughed, danced, and cried. Our minds were deeply engaged, but so were our spirits, our bodies, our emotions.
Back here in Austin, I have continued to reflect on the spirit of community, learning and shared struggle that I experienced in that space. I ask myself: Was it some kind of utopia? Can similar kinds of spaces be recreated in our everyday worlds? Inclusive spaces where intellect and emotions are equally valued in the process of producing both knowledge and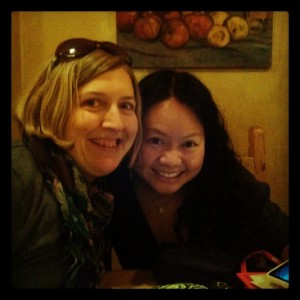 greater mutual understanding?  I believe the answer is yes, because I have experienced such spaces both inside and outside my academic community here at UT. However, sustaining them is no easy task. When one considers our diverse social locations, epistemologies, practices, and the matrix of power within which they are embedded, even the most idealistic among us might be tempted to simply throw in the towel. Then, in a seminar last week led by Dr. Christine Williams, I learned about a concept known as "recognition of self in other" (or rosio). Deceptively simple in its formulation, rosio is nothing less than the ideal sustaining our attempts at communication and relationships: the sense that some kind of mutual recognition is possible in spite of the complex web of power and inequality that structures our society.
When I learned about rosio, I realized that it captured not only what I had experienced at the SWS meeting, but also among women in Nicaragua. Although I may not have had the vocabulary to articulate it quite this way before, the possibility of mutual recognition across difference is a fundamental part of why I am here, and why I do the research I do.
A longtime San Antonio (Texas) resident, Pamela Neumann earned her B.A. cum laude in political science from Trinity University. She has held several different positions since then, including AmeriCorps member and Program Manager with City Year San Antonio, Service-Learning Coordinator at the University of Texas at San Antonio, and Communications Specialist for Food for the Hungry in Nicaragua. Pamela's thesis research examined the trajectory and effects of women's participation in community development in Nicaragua.