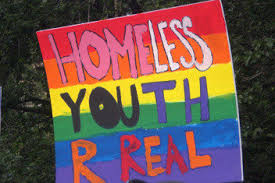 Sixth-year doctoral student Brandon Robinson discusses the complexities around LGBTQ youth homelessness, emphasizing that the circumstances that lead to youth homelessness are "beyond" family rejection:
Most discussion surrounding these disproportionate numbers focuses on family rejection, that lesbian, gay, and bisexual homeless youth are often kicked out or run away from home because of family conflict about their sexuality. Indeed, 73 percent of gay and lesbian and 26 percent of bisexual homeless youth report that they are homeless because of parental disapproval of their sexual orientation. Service providers indicate that 68 percent of the LGBTQ homeless youth they work with experience family rejection. These statistics paint a picture of homophobic and transphobic parents – many of them religious – casting their child out onto the streets. However, as a recent Huffington Postpiece captures, the lives of LGBTQ homeless youth are complex. LGBTQ homeless youth are also disproportionately racial/ethnic minorities, and they often come from family backgrounds of instability and poverty. Perhaps then there are other factors compounding these experiences of homophobia and transphobia?
Read more at The Huffington Post!