by Katie Kaufman Rogers
Earlier this month, an Australian CrossFit athlete named Khan Porter posted a video to his Facebook page. The video opens on Porter in a gym. He sashays to the Beyoncé hit "Single Ladies." Suddenly, mid-routine, Porter performs a 264 lb snatch: He lifts a cartoonishly huge barbell above his head in one swift motion, then drops it with a triumphant thud and picks up dancing where he left off.
The original video, which has been deleted, had more than 1.7 million views. Porter has since followed up with a second post, saying, "I posted my video because I think the way the public reacted reflects a pretty cool shift in preconceived notions of masculinity and think that's grounds for starting some more positive conversations about what it means to be 'a man.'" The post goes on to address the connections between masculinity, mental health, and suicide.
Porter's video and follow-up post have both received an outpouring of support online, from comments on Facebook to features and praise on Buzzfeed, Bustle, Cosmopolitan, Glamour, and espnW. Many commenters—including Porter himself—have likened the video to actor Channing Tatum's recent appearance on the reality series Lip Sync Battle, in which Tatum performed a drag rendition of Beyoncé's "Run the World (Girls)." The video of Tatum's performance went viral, too.
It is tempting to embrace Porter's hope that the widespread love for his video reflects a sea change in contemporary conceptions of masculinity—a move from rigid, fragile identities to more flexible, durable ones. But while it is true that masculinities are always in flux (Kimmel 1996), masculinities scholars debate the extent to which these changes are liberating for women and marginalized groups of men. Is the response to Porter's video as revolutionary as these media outlets profess, or is it a mirage, tricking us into believing that patriarchy has fundamentally changed? Masculinities scholarship suggests that the video reveals the elasticity of an institution like patriarchy. It can stretch to change form or appearance, but its hierarchical structure and resulting inequality stays the same.
Sociologists Tristan Bridges and C.J. Pascoe (2014) have devised a useful concept for understanding the continual shifting of masculinities. For Bridges and Pascoe, hybrid masculinities refer to the "selective incorporation of elements of identity typically associated with various marginalized and subordinated masculinities and—at times—femininities into privileged men's gender performances and identities" (2014:246). In other words, men enact hybrid masculinities when they include bits and pieces of identities associated with marginalized "Others" into their own identity projects. These Others can include men of color, working-class men, rural men, queer men, and women, among others. Bridges and Pascoe argue that even though all kinds of people use hybrid masculinities, it is men who have the most privilege (i.e., white, straight, wealthy, cisgender) who are freest to enact these identities while still being seen as appropriately masculine.
Porter partially acknowledges this when he points out that gay men are not allowed the same flexibility in constructing hybrid masculinities as straight men (though it should be noted that this point also serves—intentionally or otherwise—to stress that Porter himself is straight). However, two additional privileges help make Porter's hybrid identity "acceptable" to a broad audience. First, he has what Pascoe calls "jock insurance" (2003:1427), meaning he conforms so closely to the standards of hegemonic masculinity that he can behave in conventionally nonmasculine ways without having his masculinity questioned. These standards include traits like athletic prowess, attractiveness, and sexual skill. Porter's website states that he is a professional CrossFit athlete. His Instagram account is filled with photos and videos that showcase his athletic ability, muscled build, and signifiers of wealth (e.g., a BMW, an expensive watch, vacation photos). Articles describing the viral video tend to mention Porter's sexual desirability, calling him "super hot" "eye candy" with a "flawless" physique and "all-too-perfect upper body strength." These elements of Porter's performance and its reception work together to ensure that his dance moves do not detract from his manliness.
Second, Porter is a white man. Compare Porter's experiences with those of Odell Beckham, Jr., star wide receiver for the New York Giants, to understand the advantage his race affords him. Beckham, who is Black, is also known for dancing. He grooves in the end zone after a touchdown and in videos posted online. He also posts photos on his Instagram account that show displays of tenderness and affection toward other men. These behaviors seem aligned with what Porter sees as a transformation in socially-accepted performances of masculinity. However, the response to Beckham's hybrid masculinities differs dramatically from the response to Porter's. Rather than celebrate Beckham's identity, online commenters and media organizations have responded by interrogating his heterosexuality. Streams of comments on Beckham's Instagram describe his sexuality as "suspect" and explicitly insist that he's gay.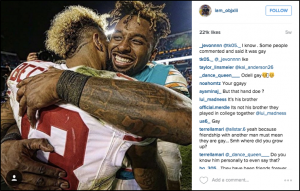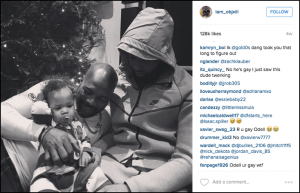 For instance, a photo of Beckham hugging longtime friend Jarvis Landry (a wide receiver for the Miami Dolphins) drew dozens of comments like the following:
blessings_catchings He's really gay people and it's not because of this pic.

alexryansanch Looking very suspect.

marley_chapo He kissn his neck
Compare this response to the praise heaped on high-profile friendships of white celebrities. The so-called "bromance" of Justin Timberlake and Jimmy Fallon, for example, has been celebrated by the media for years at no cost to public understanding of their manliness or heterosexuality.
These attacks on Beckham's identity have taken a toll on the football field. Numerous sources including the Giants organization have stated that players have targeted Beckham with homophobic language all season, occasionally spurring confrontations with other players. Before a December game against the Carolina Panthers, players reportedly taunted Beckham with "gay slurs" during pregame warmups. Beckham went on to strike Panthers cornerback Josh Norman repeatedly on the head during the game, resulting in a one-game suspension. Panthers players continued to undermine Beckham's masculinity after the game, publicly feminizing him with words like "bitch" and "ballerina."
American culture regards NFL football players as paragons of masculinity and toughness. If anyone should be able to leverage "jock insurance," it should be an NFL football star. Yet when we compare the radically different responses to Porter's and Beckham's enactments of hybrid masculinities, we can see racial disparities in the effectiveness of jock insurance. White men, it seems, have more space to construct hybrid identities (e.g., showing affection to other men, dressing in drag, dancing to Beyoncé music) than men of color.
Though well-intentioned, Porter's "strategic borrowing" (Bridges & Pascoe 2014:252) of elements of black femininity may actually work to obscure and reinforce systems of patriarchy and white supremacy rather than dismantling them. Bridges and Pascoe write:
By framing middle-class, young, straight, White men as both the embodiment and harbinger of feminist change in masculinities, social scientists participate in further marginalizing poor men, working-class men, religious men, undereducated men, rural men, and men of color (among others) as the bearers of uneducated, backwards, toxic, patriarchal masculinities. Even as young White men borrow practices and identities from young, gay, Black, or urban men in order to boost their masculine capital, research shows that these practices often work simultaneously to reaffirm these subordinated groups as deviant, thus supporting existing systems of power and dominance. (2014:253)
Applauding Porter's identity while criticizing Beckham's reinforces racial disparities in public conceptions of manhood: Porter appears bold and enlightened for engaging in behaviors for which Beckham is painted as deviant. Porter's video and accompanying statement celebrate the freedom of white men to play with masculinity, but they will do little to dismantle systems of oppression that punish men of color for the same behaviors. Rather than subvert the structural inequalities of patriarchy and white supremacy, Porter's appropriation of elements of femininity and black culture amount to—in the words of sociologist Michael Messner—"more style than substance" (1993:724).
References
Bridges, Tristan and C. J. Pascoe. 2014. "Hybrid Masculinities: New Directions in the Sociology of Men and Masculinities." Sociology Compass 8(3):246-258.
Kimmel, Michael. 1996. Manhood in America. New York: The Free Press.
Messner, Michael. 1993. "'Changing Men' and Feminist Politics in the United States." Theory and Society 22(5):723-37.
Pascoe, C. J. 2003. "Multiple Masculinities? Teenage Boys Talk About Jocks and Gender." American Behavioral Scientist 46(10):1423-38.
---
Katie Kaufman Rogers is a PhD student in the Department of Sociology. Her research focuses on the areas of gender, race, and sexuality. You can follow her on Twitter at @katie_k_rogers.