by Shantel Buggs and Brandon Robinson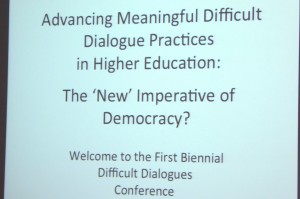 Last Friday, we had the opportunity to attend the inaugural biennial conference for the Difficult Dialogues National Resource Center (DDNRC) entitled "Advancing Meaningful Difficult Dialogues Practices in Higher Education: A New Imperative of Democracy?" The mission of the DDNRC is to advance innovative practices in higher education that promote respectful, transformative dialogue on controversial topics and complex social issues, thereby reflecting a commitment to pluralism, academic freedom, and strengthening a democratically engaged society. A central goal of this year's conference was to propel academic communities to have productive engagements with difficult dialogues.
Dr. Silvia Hurtado, the opening keynote speaker, focused on the following central concern: if we are not the society that we aspire to be, how do we get there? She suggested that while "problems" are complex, we have the capacity to be change agents. However, there are prevailing norms that we must face as educators and members of academic communities: 1) people's mindsets that they come into college with, 2) traditional notions of teaching and learning, and 3) first-years in college ask fewer questions in the classroom than they did in high school.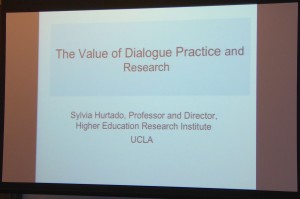 Hurtado emphasized that we need engaging forms of pedagogy in order to challenge these academic norms and to move students from their own embedded worldviews. One interesting pedagogical approach mentioned by Dr. Silvia Hurtado is for educators to learn that they are not the only authority in the classroom. Students are teachers as well, and peers can be an authority on a topic for one another. However, as educators, we must be good facilitators, which does not mean being neutral. It does mean that we must develop skills of active listening and embrace conflict and different voices in order to make progress. It should be noted, however, that choosing which educators get to de-center themselves as the authority in the classroom is fraught with various forms of privilege. Certain marginalized bodies are often already questioned as having authority, so this pedagogical approach may be difficult or not conducive for certain people's classrooms. Despite this, new forms of teaching and learning outside of traditional forms of lecturing are needed in order to truly engage in difficult dialogues and to transform the mindsets of students in order to make them better global citizens.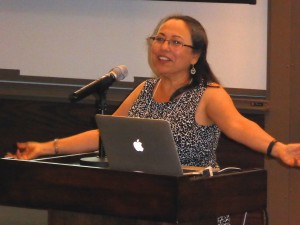 Following the keynote, we broke out into smaller workshop groups in order to have conversations about what distinguishes a "difficult dialogue" program from a one that promotes and/or encourages "respect for difference(s)." Much of the conversation focused on the fact that difficult dialogues are not value-neutral and that it is imperative to push students and educators beyond a notion of "respect as tolerance", instead aiming toward "real" action and social change. In thinking about what goals should be set for a difficult dialogue and how these goals could be identified or measured, some of the more interesting suggestions involved some directly observable goals (such as the ability to facilitate a dialogue in class or to identify strategies of facilitiation and demonstrate active listening). Others were more business-minded (such as measuring the numbers of department heads, faculty, and campus leadership groups that participate in difficult dialogue training) or philosophical (such as seeing a student develop a better understanding of structural oppression and inequality and/or an awareness of their positionality in the world). These workshops were a great opportunity to learn about the kinds of courses/programs going on at other schools and how they prioritized social justice within them.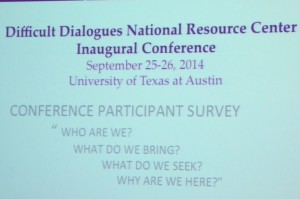 The workshop groups prepared us for the interactive theater session that led to an interesting discussion about which classrooms and which professors can actually engage in difficult dialogues. The interactive skit was about four undergraduate students who had witnessed a religious demonstration and saw people praying on campus. They entered a classroom discussing religion, protests, praying, the First Amendment, and other issues that undergraduates are likely to encounter and discuss. However, the classroom was an English course, so when it was time for class to start, the professor tried to shut down the lively debate. The skit ended with the professor telling students that it was his job to teach them about dangling modifiers, and that he did not feel like religious controversies should be discussed in his classroom. This performance raised several important questions: When should professors engage in difficult dialogues with their students? Should these issues only be discussed in certain classroom settings? For example, should religion only be discussed in a religion course, but not in an English course?
During the Q&A following the theater performance, many people felt that the professor had valid concerns about addressing these issues in his classroom. Many professors worry about tenure; engaging in these difficult dialogues could create barriers to their ability to get promoted. Likewise, students may give professors bad evaluations if they begin engaging in difficult dialogues that students perceive to have nothing to do with the topic of the class. As the conversation continued, it became evident that there are structural constraints in place that make it hard for some professors to engage in difficult dialogues in the classroom or in the larger academic community. Based on the reactions of some of those present at the session, these constraints must be addressed before institutions put greater pressure on professors to do the work of trying to "change mindsets."
Overall, we walked away from Friday's experience with important questions to consider, some awesome books, and new theoretical lenses through which to assess our roles in the classroom and in the academy. As stated in the keynote, the key to changing mindsets is disequilibrium. Disequilibirium relies upon new and unfamiliar experiences that cause us to abandon routine and encourage active thinking; if we – as sociologists – are committed to learning as a "social act", we must be committed to creating opportunities for disequilibrium and to developing an "empowered, informed, and responsible learner."
To learn more about the DDNRC, you can visit http://www.difficultdialoguesuaa.org/ or check out their Facebook at https://www.facebook.com/DifficultDialogues.org. Also see Indigenous Solutions to Intellectual Violence – Stop Talking and Listen.
Shantel Gabrieal Buggs is a fourth-year doctoral student in the Department of Sociology, studying race, gender, sexuality, and popular culture. Her dissertation will explore the online-dating experiences of mixed-race women in Central Texas. Follow her on Twitter at @Future_Dr_Buggs.
Brandon Andrew Robinson is a fourth-year doctoral student in the Department of Sociology. His research interests include sexualities, queer spatialities, and intersectionality. His dissertation will be exploring the lives of LGBTQ homeless youth.