By Pamela Neumann and Caitlyn Collins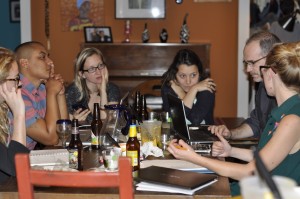 It had been a lively, thought-provoking semester. Javier Auyero taught a course called Poverty and Marginality in the Americas, and we had reached the last day of class in Spring 2012 before we parted ways for the summer. Javier sat at the head of the table, cross-armed, leaning back in his chair. Although he often had a look of intensity about him, today he looked more deep in thought than usual. He began speaking slowly, his enthusiasm growing as he presented our class with an idea. What if, he said, we take what we've learned during this course about the nature and experiences of those living "at the margins" of society, and apply it to our own city of Austin by writing a book? Javier couldn't promise us where the project would lead, whether it would be successful, or what the outcome would look like. But he was certain that the collective endeavor would be unlike anything else we had experienced in our years of schooling thus far: a pedagogical, intellectual, and political project that, as Javier writes, would chronicle "the lived experiences of inequality and social marginalization, the ways in which inequality and exclusion intertwine with individual lives and are embedded in intricate seams of biological issues."
We jumped at the chance. The collective energy we had felt together over the semester, our faith in Javier, and the importance of the joint enterprise all felt compelling. This new endeavor came to be known informally as the "Other Side of Austin" project. Over a series of intellectually and sometimes emotionally intense meetings (held as potlucks on Friday evenings several times a month at someone's home), we began to develop a consensus about both the aims and methodology of the project.
We decided that each of us would conduct a series of life-history style interviews with different individuals representing various dimensions of life in Austin, which, though hardly invisible, are rarely noticed or discussed in either popular or academic publications about this city, which tend to focus on the city's reputation as a cool, trendy, creative, musically inclined, and environmentally conscious place to live.  While all of these descriptors are true to some extent, we felt that much more remained to be said about the issues and struggles confronting men and women who live at the margins of most people's imaginations but who are in fact at the center of everyday life in Austin.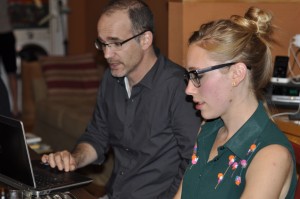 We spent many months selecting and then getting to know the subjects of our respective chapters. We visited their homes, ate meals with them, spent time with them at work, and met their families and friends. We conducted many hours of interviews and transcriptions, and then began writing. In doing so our goal was to weave together the details of each individual story – a taxi cab driver, a migrant worker, a musician, etc. – with different structural forces or phenomena shaping their lives—e.g. gentrification, corporate labor practices, gender inequality, immigration policy, racial discrimination. We met regularly to workshop each other's chapter drafts, offering feedback on style and content, as well as how best to incorporate relevant research and theoretical perspectives to illuminate what C. Wright Mills famously dubbed "the connection between biography and history." The subjects of each chapter read, revised, and approved their respective stories.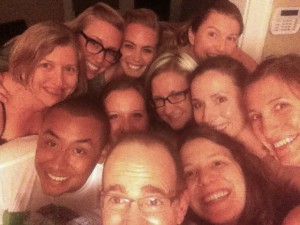 In the introduction to what eventually became our book manuscript, Javier describes both the "economy of effort" and the "economy of feelings" that went into the completion of this project. For many of us, participating in this collective production of scholarship—a "labor of love", if you will—has been one of the most challenging and rewarding aspects of our graduate career. Much of the work we do (and will do) in academia is done alone, and that may always be the case. But these past two years proved that another model is also possible, one built on collaboration and sustained by common purpose and commitment. If all goes as planned, the seeds of this collective enterprise will bear fruit in the form a book published next year.