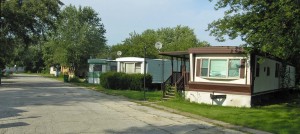 Recent UT-Austin Sociology alumna Esther Sullivan and her research are featured in "The Other Affordable Housing Crisis" at The Atlantic, discussing the "affordable housing crisis" that impacts those who live in mobile home parks:
Trailer parks are the largest segment of non-subsidized affordable housing in the United States, but they are on the radar of few policymakers, says Esther Sullivan, a sociologist at the University of Colorado Denver. Their number grew tremendously during the 1980s as direct federal funding for public housing was slashed, effectively privatizing much of the country's low-income housing. There are an estimated 8,462,461 mobile homes nationwide, according to recently released U.S. Census data.

The vast majority of mobile home parks are located not in far-flung rural areas but in more populous metros, says Sullivan, who spent two years living in and being evicted from closing mobile home parks as part of her research. They predominate in Sun Belt states like Texas, Florida, and California, but you can also find them near New York City, or Cleveland, or Seattle.

Trailer park residents typically own their homes but not the ground beneath them, meaning most of the benefits of homeownership can be destroyed at someone else's whim. It's precisely this divided ownership model that helps make mobile home living affordable, but it also leaves residents vulnerable to eviction.
Read more on this issue and Esther's work in Harris County here!