Welcome to the new "On the Market" series, where UTAustinSOC will profile UT-Austin graduate students who are on the job market! This series will serve as a means of not only allowing the graduate community to learn more about the important work that our graduate students are producing; it will also be a place to share advice gleaned and lessons learned from the job search process.
Up first, Kate Averett, a 6th-year doctoral candidate and Urban Ethnography Lab Fellow: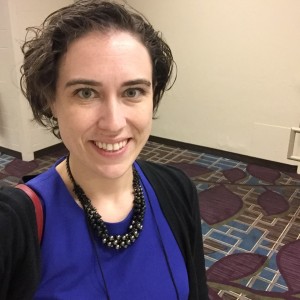 Tell me about your research. What are you working on?
 My research broadly is around gender and sexuality in childhood and the family. More specifically, I look at how the social structures of gender and sexuality shape and inform experiences of childhood and experiences of parenting. I've done research in the past that has looked at LGBT parents and how they socialize their kids with respect to gender, particularly how they navigate the fact that a lot of the gender norms in childhood are based around very heteronormative assumptions. I looked at how they think about their children's futures as not necessarily heterosexual and how they raise their kids with respect to/in resistance to gender norms.
My dissertation is on the homeschooling movement in Texas. It's a mixed methods project that is looking at discourses of gender and sexuality in the homeschooling movement. Homeschooling has traditionally been this very bifurcated movement where you have people on the ideological "extremes": religious conservatives – who have very specific beliefs about what gender and sexuality should look like and are very critical of the secularization of schools and the liberal influence around gender and sexuality – and liberal progressives – who have more of an education reform perspective and are critical of the way that schools encourage conformity in children, including gender and sexual conformity, and view schools as places where children are taught to lose their "true" selves. So, they're both really critical of the gender and sexual "regimes" of the schools but from really different directions.
So, I'm exploring what discourses are going on and what do these have to do with how these two opposing "camps" are coming to the same decision to homeschool their kids. I look at the values and beliefs of the families but also the structural forces that are shaping this decision, such as the larger neoliberal divestment from public services like public education as well as the type of work that the parents do or whether they have workplace flexibility. Parents I've interviewed tend to have had one of two situations: either the husbands of these heterosexual wives make enough to support the family on one income or one or both parents have some sort of flexible work arrangement that allows them to work part-time, work from home or work odd hours in order to accommodate being home with their kids. There's a lot about the structure of the economy right now that is enabling certain parents to homeschool, but it raises all these questions about who doesn't have the access to this practice when they are dissatisfied with public education due to working multiple jobs or not having workplace flexibility.
The other major structural factor I look at is the gendered construction of motherhood and how the ways parents on both sides of the political spectrum talk about homeschooling is informed by what it means to be a "good" mother. Even among self-proclaimed "feminist parents" the pressure for the mother to be doing everything she can to provide for her children is something they feel very strongly about and to varying degrees, do and do not feel able to resist.
For my future research, I see myself remaining in this area of looking at gender and sexuality in the family. I'm planning a project looking at families with a transgender parent or transgender child, including both in the study to think about how children are part of the gendering process of the family itself and how children play a role as active social agents in gendering their parents and making the gendered space of the family what it is.
Very cool. So, how did you prepare for this process of applying for jobs and sending out applications this fall?
 I started preparing over the summer; as soon as job postings started going up on the ASA Job Bank (the earliest in May, but most in June or July and continuing into October) I was looking at them, even though there weren't that many at first and most of them wouldn't be jobs I'd be applying for in terms of not being in my area. I looked at what kinds of materials they are looking for, what kinds of materials do I need to have. One of the first things I did was make an appointment with my advisor and ask her what were the things I should be doing, at what point should I have drafts of various documents. Her advice was really helpful, in that the documents you produce for the job market are, for the most part, very short but they take a really long time to get them right. It's easy to write a cover letter but it's not easy to write a good cover letter; you have to allow time for multiples drafts, multiple rewrites.
I started working on the basics of my documents in July, so that by mid-August I had my basic cover letter, research statement, and teaching statement all set. This was helpful because then ASA happens and then, as soon as you get back, some of the deadlines are starting. I've found most of the deadlines are between mid-September and mid-October but there were some early-September ones, so you need to have stuff ready to go.
The other thing I did was contact the people I wanted to write letters for me in June, making sure I gave them plenty of lead time on that, even though as of June I didn't know more than a handful of specific jobs, specific dates. I asked them, what information would you like from me, what can I do to make this easier? So, being in frequent contact with the letter writers has been really important in terms of checking in with what they need and keeping them informed of new deadlines or new openings that I am applying for.
How often is "frequent"?
It depends on what your letter writer needs. Some want updates whenever you add a new position to the list; others want weekly updates on what's coming up this week. Every letter writer is going to be different in terms of what they want from you so I think it's a good idea to just ask.
So, how are you balancing all the things on your plate right now, since the semester is back in session?
 I'm TA-ing this semester for Research Methods. It's a course I've TA'd for before with different professors, so I'm pretty familiar with the subject matter. There's a lag in the semester before any grading needs to happen on my part, so, even though the majority of my applications aren't due until mid-to-late-September and early-to-mid-October, I'm trying to get all my applications done and out within the first few weeks of the semester. I know that once I start having to grade papers, it will be harder to balance all of that. For now, I'm trying to spend a couple days a week really focused on applications and getting them out. I have a calendar of what I want to get out each week. Also, I have a couple of days a week that I dedicate to working on my dissertation.
Any sage advice?
My biggest piece of advice would be to be super organized, even if you're not normally a super organized person. Force yourself to be. I have several different spreadsheets having to do with the jobs I'm applying for, when their deadlines are, what's required for each application since the portfolio looks different for each one. I have a separate spreadsheet for my letter writers that includes the position – what it is, is it targeted for a gender person, is it a joint appointment, that kind of thing – and what the deadline is, and how the letter is to be submitted. Some you submit through Interfolio or on the school's website, others you send emails to specific people, and others delay letters until you've made it to a certain round in the selection process. I have another spreadsheet that tracks what's been uploaded and submitted. I color-code to mark my progress of when I finish an application. So much is in the little details, so it's helpful to mark your progress and know that you're getting somewhere.
How are you practicing self-care?
The way I've been practicing self-care in general the last few years is being really good about my sleep. That's one area that I just don't sacrifice because I know that's what my body needs. I've also been working on eating healthier, staying hydrated, stretching, doing yoga. I try to keep my body moving and pay attention to it because if you get sick or your back goes out, it's really hard to get work done. Make sure you're taking care of the basics so you can do everything else. People don't think of scholarly work as being embodied work but it is. It's tough on our bodies to be writing all the time, to be sitting, to be reading – the postures we hold ourselves in are hard on the body. You have to keep your body conditioned the way that anyone would for a job that requires physical labor.
Also, having a community of other people who are on the job market is really critical. There are a bunch of us in the department who are on the market right now and we bounce ideas off each other, we ask each other questions, we get advice, we talk strategy. There is a temptation to be competitive and not share advice; but I, and my colleagues, know that when one of us looks good, all of UT-Austin Sociology looks good. When we're all strong on the market that makes us all look good. It's a very solitary experience so it's good that we're all cheering for each other. The little bits of encouragement are really helpful and help with demystifying the process. #solidarityisforgradstudents