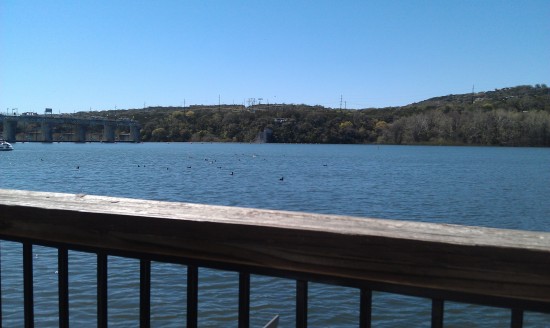 When I announced to my friends that I would be moving to Texas, I received a lot of skeptical responses, ranging from confusion ("why would you want to do that?") to hyperbole ("you're going to get shot"). Like many people considering a move to Texas for the sake of their education, I was well aware of the stereotype of all Texans as socially conservative, gun-toting cowboys and Southern belles. After living in Texas for five and a half years (in Houston for undergrad and then some, and now in Austin), I've learned that there's much more to Texas than these stereotypes. Here are a few lessons I have learned that I would like to share as you decide if UT-Austin and Texas are the right place for you.
1. Texas, and Texans, are a lot more open-minded than expected. Given its bad reputation, I expect people would be surprised to hear of the progressive changes that have come out of Texas. In terms of LGBT rights, Houston elected Mayor Annise Parker in 2009 (and re-elected her in 2011), making her one of the first openly gay mayors of a major U.S. city. Additionally, Civil Rights leader Barbara Jordan was the first African-American woman elected to the Texas Senate in 1966 and the first woman elected as a federal House Representative of Texas in 1972. Located next to UT's Texas Union building, a statue of Representative Jordan commemorates her political advocacy for the disadvantaged. Finally, southern comfort is more than a liquor that came out of our neighboring Louisiana. In general, Texas is known for its southern hospitality, and the large university base in Austin lends an even greater feeling of friendliness to the city.
2. Culture is culture is culture. The stereotype of Texan culture as the howdy'in cowboys and belles I mentioned earlier both reduces and ignores the diversity of cultures and people in Texas. The proximity to Mexico means a strong Mexican cultural presence, which has also branched off into a distinct Tex-Mex (or Mex-Tex, if you like) culture. Beyond breakfast tacos on restaurant menus and mariachi bands at weddings, Texas is at the forefront of immigration trends and shifts in the racial and ethnic makeup of the population that will soon come to influence the rest of the United States. Whether a research interest of yours or not, these trends have important implications for public policy and social relations that we are already experiencing in Texas and that foreshadow similar issues on the national scene. Furthermore, Austin has numerous subcultures and creative venues, evident in the annual South by Southwest festival, popular food trucks, and bicycle gangs.
3. There are "crazies" everywhere. One of my biggest concerns about moving to (and deciding to stay in) Texas were political extremists, by which I mean those who try to impose their political and social views on others to the detriment of public discourse. Regardless of your political inclination, extremism in either direction tends to be pretty scary – but these kinds of people exist everywhere, from Texas to Missouri to New York City. While their concentration may shift, you will never escape such people; and if your goal is to surround yourself with people whose views are exactly the same as yours, good luck navigating academia or any other profession.
4. You can't beat the weather (except in the summer). Saving the most superficial for last, near year-round warm weather and sunshine can do wonders for your life. As I write this blog post, I am sitting on the patio of a cafe overlooking sunshine reflecting off the lake. I may also be studying for a midterm exam, but I am doing so in beautiful 75˚ weather – in the first week of March! For me personally, I am much happier and much more productive when I can be outside, and this is not a trivial factor in my quality of life. If running trails, bike rides, and kayaking year-round are your thing, you're in luck. If admiring the December sunshine from your apartment window is your thing, you're in luck.
To conclude what has almost become a public service announcement or love letter of sorts to Texas, I concede that there are disadvantages to living in Texas. The state legislature has passed recent laws to which I am very morally opposed and the traffic on I-35 is always atrocious. However, the advantages I have experienced as a Texas resident and as a member of UT's nationally competitive sociology program are greater. When I first moved to Texas, I made a promise to myself to boycott cowboy hats and usage of the word y'all. Over time, I have confronted and moved past my own stereotypes and misconceptions of a state it turns out I knew little about. Y'all has slipped into my vocabulary. Although, a cowboy hat has yet to touch my head in any kind of seriousness.
—
Chelsea Smith is pursuing her doctoral degree in the Department of Sociology. Her research interests are in family sociology and demography. After graduating from Rice University in 2010, she worked on a longitudinal, mixed-methods study to examine gender differences in the graduate student experience, with a focus on STEM fields, gender, and fertility intentions. As a PhD student at the University of Texas, Chelsea plans on studying non-traditional families and relationships between parents and children.