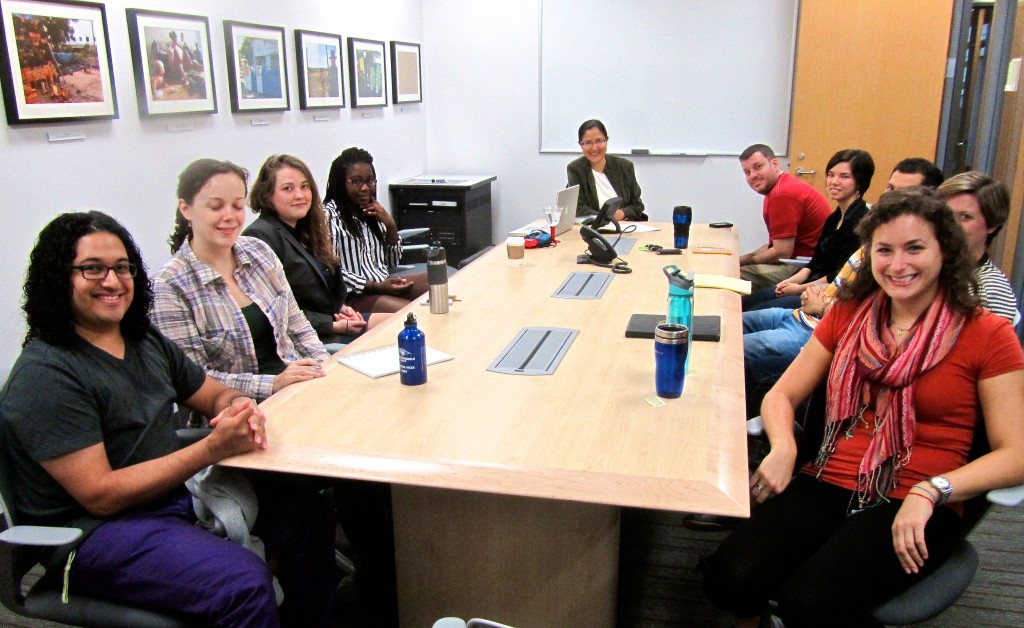 Dr. Gloria González-López met with graduate students, some who are in their first year, others in their second, fourth, fifth and one graduating student who is on the job market this year, to engage in a dialogue about two interconnected human dimensions of academic life: transitions and identities.
All participants gave a word to describe how we felt in relation to:
Transition        Identity
meaningful       awkward
stressful             ambiguous
uncertainty       uncertainty
difficult              fluid
perpetual           messy
involving           generalizing
awkward           conflict
uneasy               dynamic
departure          adaptive
overwhelmed    involving
evolving             becoming
disruptive          collaborative
Clearly, this was a conversation worth having.
Gloria, as she wants us to call her, enrolled in a Ph.D. program 20 yrs. ago, and is in her 12th year, now as an associate professor of sociology at UT Austin. She shares her life lessons and insights below to help future professors handle their evolving professional lives.
(1) Change seems to be the only consistent, permanent thing in life, and reminding myself of it makes change and transitions more "normal" – transitions are a vital part of life.
Academic life is about transitioning and we need to be aware of this. Maybe this profession –more than others—requires a special skill to deal with it. This profession also goes hand in hand with personal transitions, so it is quite a challenge when we combine professional and personal transitions.
Life is not always nice, neat, clean, well organized – grad school and life as an academic have a dimension of messiness. We can become very miserable if we are not aware of it and if we don't have a tool kit to take care of it.
(2) Keep a consistent routine as much as you can, taking care of yourself should be part of this. Always take care of the basics: eat, sleep well, and secure the financial dimension of your life. Stay healthy. So keep some kind of routine to have at least a minimal structure to organize your day.
(3) Transitions are not experiences to be fixed. They are life journeys to be lived. Transitions are about change, not about something not working right, or being dysfunctional. Sometimes you do not have to do anything about it. At times we want to fix something that does not need to be fixed, because transitioning does not mean that something is broken.
(4) Professional transitions have their own flow. Do not panic, do your best to be relaxed as you go through this ride.
(5) Do not rush the process. Always take one step at a time.
(6) Don't deny change, denial does not work. One of the reasons going through transitions may become so challenging to graduate students is precisely because we are over-achievers and successful people: wow, I am in the Ph.D. program and my GPA is 4.0, and my GRE scores are so high, so how come I can't deal with these feelings? It may become a good opportunity to practice humility. This can be very, very useful.
(7) Always remind yourself of the larger purpose, the larger picture.
(8) Think of other life transitions in the past – what did you do that worked effectively as you went through it?
(9) Change may facilitate other changes you may want to take advantage of it. Some people say that changes are opportunities for growth. Even simple things like cleaning up the office and getting rid of clutter.
(10) Transitions cause confusion but once you know that you are confused and anxious you know what you are experiencing. Hey, I am confused and anxious and that is OK!
(11) Transitions are tricky and at times they might seem or appear to be an "existential" problem. We may approach life transitions as if they were existential problems, this is not always the case – we might get in trouble if we do. While this might be at times, it is not always the case. Be aware if a transition coincides with an existential concern.
(12) Try to keep your same, nice support system. Talk to someone you trust about these issues, at times that is all it takes to normalize it.
(13) Develop some comfort level with uncertainty and ambiguity – not easy in a culture that is so obsessed with certainty, efficiency, efficacy, precision, being in control.
(14) Be patient with the process. Don't overwork yourself about it. Don't be obsessed about it.
(15) Live in the present. Life has not given you all of the information yet. Do not anticipate. The future does not exist yet. Be present – that is all we have in the end.
(16) Making important decisions while transitioning might not be a good idea: e.g. I am lonely and confused as part of a transition and may get romantically involved with the person I might not have chosen under more stable circumstances. In retrospect you may go, "Wow, shocking! What was I thinking?!"
(17) You may go through transitions and some of your unresolved, past issues in life may surface. Watch out.
(18) Journaling may help you so how you are evolving. You can keep track of how you are experiencing the transition. People who like to keep a journal may benefit from this.
(19) Transitions in identity: there is some kind of grief always when it comes to the person you used to be and the one you are becoming. Be open to that. The one you used to be will always be with you. You could not be who you are without it.
(20) You may go through a transition and then in retrospect think about it and be clueless about what happened while transitioning (Eh, what happened?!). Not knowing more about what you went through is so human – accept that. I have gone through important professional transitions and in retrospect I don't even know exactly what happened to me. At times it's better not put your heart under the microscope, just simply let it be.
(21) Transitions pass, you will have a new life lesson, they will make you a more sophisticated human being, and now you have something to offer to the people you work with (e.g., a student will come to you freaking out because he/she is transitioning, very common when students finish college), family and friends.
(22) Some of us are always in transition because of who we are (gender, race, class, sexuality, citizenship, religion, etc). So we go from one context to another to another and have to transition into other ways of being. Some of us are always in the process of transitioning, in the process of becoming.
These tips for staying fluid in times of transition, finding support in community and in self-supporting regimens can make the difference between imbalance and stability.  We thank Dr. González-López for keeping the humanity in academia.