by Katie Kaufman Rogers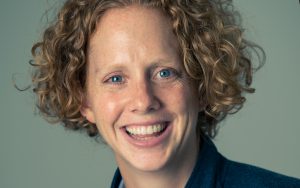 This October, the UT Austin Department of Sociology and Fem(me) Sem welcomed sociologist Angela Stroud for a public talk and discussion with graduate students about her new book, Good Guys with Guns: The Appeal and Consequences of Concealed Carry. Dr. Stroud completed her PhD in sociology at UT Austin in 2012 and is now an Assistant Professor of Sociology and Social Justice at Northland College in Wisconsin.
Dr. Stroud opened her presentation with graphs showing rates of American gun ownership. Despite an overall decrease in gun ownership since 1970 (rates have fallen by nearly 20%), the Obama Era has seen a sudden proliferation of concealed handgun licenses. In 2007, she said, 4.5 million Americans held such licenses. But since, more than 6 million additional licenses have been administered, bringing today's total to a staggering 11 million. But why? To better understand the explosion of firearm sales and spread of concealed carry legislation, Dr. Stroud sought to uncover what motivates Americans to attain permits and buy guns.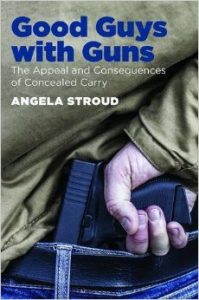 During the talk, Dr. Stroud shared insights from her fieldwork in gun licensing courses, as well as excerpts from the in-depth interviews she conducted with gun permit holders. The title of the book plays on an old maxim in pro-gun discourse ("only a good guy with a gun can stop a bad guy with a gun"), but as Dr. Stroud explained, it also highlights a key finding: the cultural relevance of the "good guy" trope. She unpacked the construction of the "good guy" identity, arguing that its conflation with whiteness and hegemonic masculinity helps explain the appeal of concealed carry as a symbolic practice for men. She drew on elements of critical whiteness theory and Raewyn Connell's theory of hegemonic masculinity to analyze participants' narratives about the protection they perceive guns to offer.
Ultimately, she found that cultural definitions of "good" gun owners rely on a classed and racialized dichotomy of masculinities. Respondents saw themselves as "good guys" who earned the right to own guns through training and civic service, as opposed to to "bad guys," whose gun ownership threatened the safety of "good" families and communities. Dr. Stroud argued that this binary paints white men as responsible heroes while casting Black and Latino men as dangerous criminals. Additionally, the trope displaces deviant whiteness onto working-class men (whom her participants dismissed as uneducated "Bubbas"). She also touched on how geographical space is invoked in "good guy" discourse, pointing to respondents' racialized conceptualizations of sites like the highway, the ghetto, and the home.
Dr. Stroud's work has a particular resonance within the context of the University of Texas at Austin. Texas' new campus carry legislation, which took effect this past August, gives students and faculty members the right to carry concealed handguns in university buildings such as classrooms and dormitories. The law has added fuel to an already blazing national controversy about guns. It has also galvanized the UT community, sparking petitions, protests, resignations, lawsuits, several faculty op-eds, and a slew of cancellations from scheduled visitors ranging from famous musicians to guest lecturers.
Good Guys with Guns critically intervenes in gun control debates by illuminating an understudied facet of American gun culture: How gun owners understand the necessity of guns is tied to how they see themselves and their place in the world. Dr. Stroud's talk added an important voice to the campus conversation about concealed carry, showing how both pro- and anti-gun advocates misunderstand the deeper issues of race, class, and gender that shape how Americans understand guns.
---
Good Guys with Guns is available through the University of North Carolina Press. You can follow Dr. Angela Stroud on Twitter at @astroud.
Katie Kaufman Rogers is a PhD student in the Department of Sociology. Her research focuses on the areas of gender, race, and sexuality. You can follow her on Twitter at @katiearog.