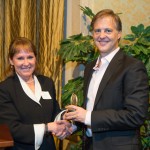 Thanks in part to the generous support of the College of Liberal Arts, our Chairperson, Rob Crosnoe and our Graduate Studies Chair, Pamela Paxton each led a 4-day writing workshop to help students boost their summer journal submissions.
Rachel, a 2014 cohort member tells us how she felt after the first session with Rob Crosnoe:
As a first year graduate student, the Summer Writing Workshop with Dr. Rob Crosnoe was incredibly beneficial. Producing and publishing research is pivotal to our success as current graduate students and future assistant professors, and I feel more knowledgeable and confidant after this 4-day workshop than after a year of coursework. Learning Dr. Crosnoe's strategies, applying them to my own paper, and receiving his feedback helped me develop skills that will be useful for all current and future projects. I find myself already applying his advice on organization and framing to papers that I am co-authoring in addition to my own sole-authored projects. I'm thankful that I had the opportunity to participate in this workshop so early in my graduate school career. The experience was invaluable.
The 14 participants in each workshop were initially paired to give each other feedback. Each person submitted a paper they wanted to develop from a prior class project or their thesis or dissertation chapters for Rob's review and critique. They will work in groups of 3 or 4 throughout the summer, using what they learned in the sessions to improve their papers and chances of an R & R or acceptance. Chelsea, a fourth year student writes:
The biggest thing I took away from the writing workshop was how to structure the argument of a paper. I now have a template for writing papers that relies on sequential logic that is clearly laid out in a conceptual model. The template for the introduction section is especially helpful because I used to struggle with getting started on writing yet keeping a concise and focused introduction. Tied to the overall paper structure, Rob had us complete consistency reports, which checked for consistency within each aim/hypothesis/research question/theme across each section of the paper. The first hypothesis, for example, should be clearly stated in the introduction, explained in the lit review, described how it will be tested in the method section, findings shown in the results section, and assessed in the discussion section. I plan to use the template and consistency report in all papers I write from now on.

Pam Paxton – The Power of Giving class awards $100,000
Tracking the writing group meetings and subsequent journal  submissions will provide outcomes and data that will be useful in assessing the success of this pilot program. It's exciting to encourage students in every stage of their program to engage in the conversation and the practice of writing.  As Robert states:
The most important thing the writing workshop offered was the opportunity to discuss our plans for our papers in a guided, productive, and informative way. I'm referring both to the structure of the papers themselves and the journal submission process. Rob did a great job of condensing a lot of the writing process down into a solid introduction, a continuity plan, and a conclusion that ties everything back together — with a mind towards your audience and, as Christine put it, "Who you're in conversation with." The simple exercises we did along the way served as a great foundation to begin or revise writing, and after even just one meeting with the writing group we formed I can already tell it has increased my productivity.
Ellyn, no stranger to the world of publishing, still learned valuable lessons and gained inspiration from her colleagues:
I found the writing workshop to be so helpful because it provided an organizational framework that I can take with me into my different writing projects. It made me focus and identify my research questions, forced consistency throughout the different sections of my paper, and gave me the support and encouragement of peer feedback. This workshop really motivated me to set specific goals for submitting my work to a journal, and with the help of my writing group I am confident that I will be able to meet that goal.
Looking forward to hearing from the writing groups as they join forces to stay motivated and focused on polishing and publishing their research.  Many thanks to our peerless leaders, Rob and Pam!