By: Pamela Neumann

This past weekend, Dr. Harel Shapira and the Department of Sociology's Ethnography Lab hosted the 5th Annual Craft of Ethnography Workshop—an informal workshop that gathers a small group of graduate students and faculty ethnographers from around the country to share their work, exchange ideas, and promote the development of a community of scholars. One of the highlights of the workshop this year was a special "Master Class" with Dr. Jack Katz (UCLA). Reflecting on his distinguished career as an ethnographer–and a keen observer of social life–, Katz offered a number of valuable insights for those of us, like me, who are just beginning to learn and practice this craft.
One key point that Katz repeatedly emphasized is that in any ethnographic analysis of social life, it is critical to consider at least three main dimensions: (1) interaction, (2) sequence, and (3) embodiment. Much of what goes on in the world around us, Katz emphasized, is driven by the kinds of interactions that occur between individuals or groups. However, it is not enough to note the interaction itself, but the myriad situational characteristics that provide context for whatever verbal or non-verbal exchange is occurring. The task of the ethnographer is not merely to note these interactions, but also take into account their sequence, and the ways in which the order of interactions influences how subsequent events unfold. At the same time, the meanings of situations are not solely to be found in language, or discourse, but are also embodied in various ways, such as through emotions.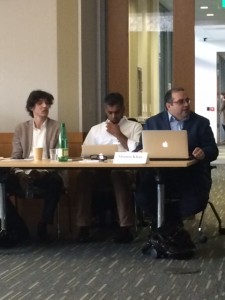 Katz, who is the author of How Emotions Work (2001), argued that while emotions sometimes get short shrift, they are in fact a key way to better understand social ontology—that is, why people act the way they do in particular situations. In our quest to understand "why people do what they do," Katz encouraged participants to consider how actions can be seen as people's attempts to solve or resolve existential or moral questions.   From this point of view, seeming "inconsistencies" or variation in the same individual's strategies for dealing with similar situations (or their narratives about those actions) might no longer be seen as necessarily contradictory but rather an evolving set of responses based on affective or experiential knowledge acquired in prior situations.
In addition to these theoretical insights into the process of data analysis, Katz also offered some helpful practical tips for the writing process, which can be summarized by a particularly pithy remark: "show me the people." In other words, don't spend too much time at the abstract level before presenting a concrete illustration, or a real person's story, to substantiate your claims. Good writing moves back and forth between the theoretical to the empirical to build a coherent narrative.
All in all, the workshop was a wonderful opportunity to learn from and build new relationships with a diverse array of junior and senior scholars. Although ethnography is often thought of as a solitary craft, this past weekend provided a much needed dose of inspiration, collective effervescence and solidarity. I am glad to be on this journey.