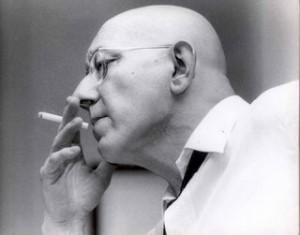 An interesting speech given in Athens in 1989, six months before the fall of the Berlin Wall, by Cornelius Castoriadis, founder of Socialisme ou Barbarie (1948-65). Mention of sociologist Lewis Mumford. Some tidbits:
'We must return to the original meaning of the word "democracy." Democracy does not mean human rights, does not mean lack of censorship, does not mean elections of any kind. All this is very nice, but it's just second- or third-degree consequences of democracy.'
'There is a famous phrase of Plato, in the Laws, if I remember correctly, where he is discussing the ideal dimensions of a city and says that the ideal dimensions as regards population (not territory) is the number of people who, gathered in one place, are able to hear an orator speaking.'
'If factories and public services manage to function, it's because employees violate to a large extent the regulations in order to be able to do their jobs. This is proven by the fact that one of the most effective forms of strike is what is called in French 'zeal strike': the employees begin to apply the regulations to the letter, and this can make everything collapse in an hour.'
'…[I]n ancient democracy, as people had nothing else to do…they had this political passion, while ourselves…all we seek from the state is to consolidate our delights.'
Read more here.