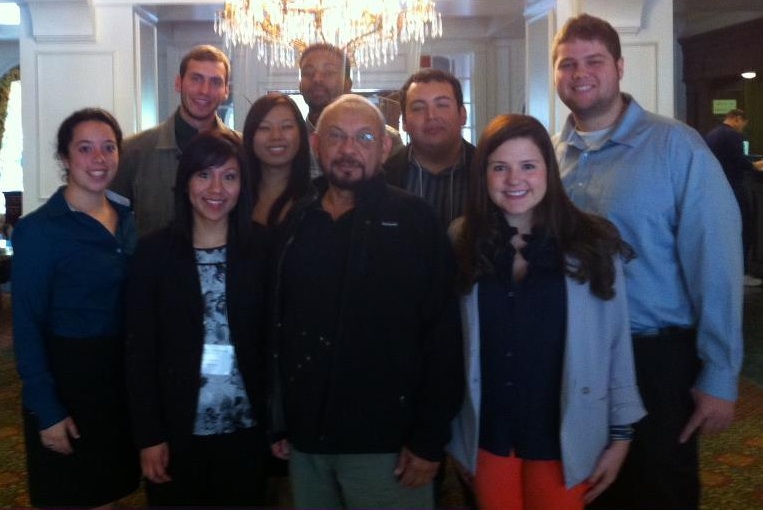 Longhorn REU students with their adviser, sociology professor Dr. Nestor Rodriguez (center). To Dr. Rodriguez's immediate right: Mario Guerra and Taylor Orth
Each year the Population Research Center at The University of Texas at Austin, in collaboration with the Department of Sociology, hosts the Research Experience for Undergraduates (REU) program. This eight-week summer program, which is funded by a grant from the National Science Foundation, offers eight very selective upper-division undergraduate students from both UT-Austin and from around the country the opportunity to study social demography through course work and a mentored research experience with senior PRC graduate students. Student papers are then presented at the annual fall meeting of the Southern Demographic Association.  This year three undergraduate sociology majors – Taylor Orth, Mario Guerra, and Sharron Wang – participated in the REU program and we invited them to share their experiences with the blog.
Taylor Orth:     The REU program gave me the opportunity to conduct independent research and provided me with the ultimate pre-graduate school experience. Throughout the program, we were taught through a variety of different classes, seminars and experiences. While being trained in the technical side through working with Stata and GIS software, we were also given field experience by taking a field trip to Houston to explore different racial and ethnic enclaves. Dr. Nestor Rodriguez and Dr. Rebecca Torres provided us with a mix of perspectives, and gave us a sociological as well as a geographical understanding of our topics and the subjects we approached in the classroom. I feel like the program really helped me to fully explore my interests before I take the leap of applying to graduate school. With such a strong support group, it was an excellent time to really find out what I wanted to study and to take risks with using difficult data and new types of analyses.
In addition to the training we received, we were paired with graduate mentors who oversaw our research and guided us in making decisions regarding our own independent projects. My mentor David McClendon was especially helpful and assisted me in my project on fertility within interracial and interethnic marriages. After finishing our projects, we submitted them to the Southern Demographic Association conference.  Attending the conference was a valuable experience, and we were each given the opportunity to present our research. For me, the most rewarding part was when I finished my presentation and one woman stayed around afterwards to speak with me. She informed me that she had come to the panel presentation because my topic was of particular interest to her, and she wanted to ask me additional questions and speak in detail after the presentation. It was exciting to think that someone was interested in something I had researched and it was nice to be able to share what I had learned.
After having such a positive experience working with a diverse cohort of students as well as interacting daily with a faculty mentor, I became confident in my decision to attend graduate school. The program gave me all the tools that I needed to work independently, but also provided me with resources to fall back on when I needed help. With many long hours working in the PRC computer lab on our projects, our cohort of students developed a special bond, and were very happy to be reunited at the meeting in Williamsburg. I don't think there could have been a better way to spend my summer. The program provided me with a research experience unavailable to undergraduates anywhere else.
Mario Guerra:     The REU program gave me a unique opportunity to learn the ins and outs of conducting research as well as presenting at a conference. In general, most students have written research papers for a class or two but conducting independent research takes this a step further as one tries to contribute to the work that may already be out there. After a summer of research focused workshops and seminars, we were then able to show off our work at the SDA conference.
The summer program was an interesting experience as it allowed for a more intensive focus on independent research than did any other undergraduate class I have taken. The focus here was to prepare the students for their own research projects no matter what their background in statistics and demography may be. Due to the mix of students, our workshops were focused on training in both STATA and GIS in order to conduct our analysis. The summer months also gave us the opportunity to get to know other students from around the country who had similar interests as we did and were also eager to explore Austin. The resources over the summer also made the daunting task of independent research a more manageable experience. The fearless REU leaders Dr. Nestor Rodriguez and Dr. Rebecca Torres were always available to answer any questions. Additionally, our mentors and grad students in charge of workshops gave great advice and went above and beyond to help us.
This October was our conference at SDA which was my first presentation at an actual conference. It was a great experience in not only presenting but simply being around that type of environment. Knowing that for two and a half days you could sit in on some pretty interesting presentations was great. As for the presentation, I feel that I was definitely a lot more nervous than I had to be. The many nights spent at local 24 hour coffee shops running data analysis and reading random articles on my topic had prepared me for the presentation. I found myself not needing to prepare as much as I thought seeing as I felt rather confident in the subject matter. This in turn made for a relatively smooth presentation. Seeing as my presentations was during the first student time slot, I was able to spend the rest of the time not worrying about the presentation. I was able to explore William and Marys right next door and hang out with the other REU students.
In all, it was a wonderful experience that led to some great stories (like that we randomly said hi to the Dalai Lama although that's not really REU related). We also made some great connections with professors and other students who had similar research interests. Personally, the program really solidified the idea that as a sociology major applying to graduate schools, this type of research is something I enjoy doing.
Sharron Xuaren Wang:     I would like to begin by thanking the Sociology Department and Population Research Center (PRC) for they giving me the opportunity to take part in the REU program this summer. I also want to thank Dr. Nestor Rodriguez, Dr. Rebecca Torres, Molly Dondero, Joseph Lariscy, our mentors, and the entire amazing faculty and staff who made this research program possible and guided us through our research
The REU program is very special to me because it gave me the confidence to do sociological research in the future. My first major was economics.  After adding sociology as my second major, I was eager to find an opportunity to conduct sociological research. I enjoyed reading sociological literature; however, I was not sure if I would be able to do research or not.  Fortunately, I had the opportunity to participate in the REU program.
All the classes and sessions I took in the REU program equipped me with the knowledge and skills to do independent research. I also got a taste of how joyful it can be after I ran data analyses successfully. The moment I saw results appear on my screen, I became sure that doing research is for me and that I want to pursue it. Even though I had some difficulties finding available data and supporting theories for my topic, our supervisor, Dr. Rodriguez, Molly, and Joseph were very supportive. They gave me helpful insight and lots of courage that help me persevere through all the difficulties.
The October SDA meeting was a unique opportunity for me to practice presenting my research and listen to outstanding research presentations. I was deeply impressed by the academic atmosphere in the conference. I also got much valuable feedback from other researchers for my research. I want to thank the REU very much for giving me this wonderful experience and the courage to pursue my interest in researching. The entire program was an unforgettable experience.