by Kevin Hsu and Evelyn Porter
Panelists:
Marianna Anaya, Mexican American Studies and Radio, Television and Film junior, member of La Colectiva Femenil
Marleen Villanueva, Spanish senior, member of La Colectiva Femenil
Juan Portillo, PhD student in Sociology
Rocio Villalobos, UT-Austin alum and Program Coordinator for the Multicultural Engagement Center
Ganiva Reyes, PhD student in Cultural Studies and Education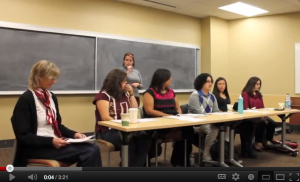 While college is often sold as the ticket to a better life, being a student at The University of Texas can also be a rough and violent experience. Recent bleach bombings against students of color, offensive sorority and fraternity race-themed parties, and the current attack on affirmative action can affect students' sense of security, their sense of belonging in our imagined community, and their emotional well-being. At the same time, UT's and Austin's claim to a liberal mentality can serve to obscure or diminish the impact of these events, as well as the sense of alienation that students can and often feel.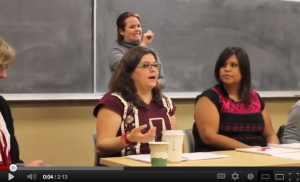 As a response to the current campus climate, on October 30, 2012, the Sociology Department organized a panel presentation and discussion, free and open to the public, to frame these and other issues in a way that allows us to unravel the many social forces that affect students, including race, gender, sexuality, and social class.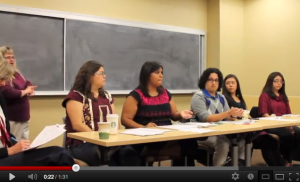 In this panel, the presenters opened up a conversation to explore how race, gender, sexuality, and social class are experienced by students.  First, Marianna Anaya and Marleen Villanueva provided narratives of their educational trajectories at UT, shedding light on their experiences as first generation college students, women of color, and student leaders.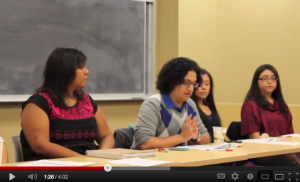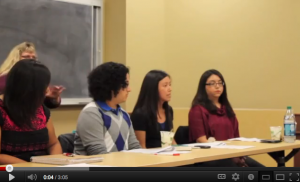 Next, using an intersectional, feminist, sociological lens, Juan Portillo explained how UT can learn from students' experiences in order to understand how racism, sexism and classism are at work in institutions in the form of 'micro-aggressions.'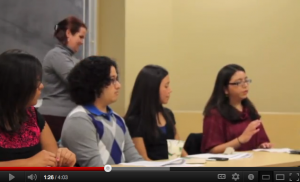 Rocio Villalobos then provided her perspective as a UT alum and as someone who now works for UT in a center that seeks to address issues such as racism, classism, sexism, and homophobia.
Finally, Ganiva Reyes talked about her experiences teaching the only required course in the College of Education that addresses race, gender, sexuality, and other factors in teacher training.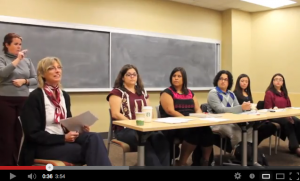 The panel was moderated by Dr Christine Williams, Chair of the Sociology Department. We hope that after the presentation, the panelists and the audience can continue to have conversations that further enrich our understanding of racism, sexism and classism, and what steps can be taken to address these problems.