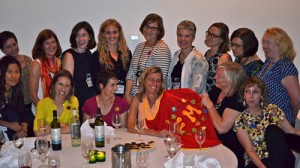 Sociologists for Women in Society honors Professor Christine Williams with the 2013 Feminist Mentoring Award.
The Mentoring Award honors an SWS member who is an outstanding feminist mentor. In establishing the award, SWS recognized that feminist mentoring is an important and concrete way to encourage feminist scholarship, membership in the academy, and feminist change.
The award was presented to Dr. Williams at the SWS summer banquet during the 2013 ASA annual meeting in New York.
Kudos, Christine!