Pamela Neumann courtesy of the Gender and Society Blog
click on link above for full post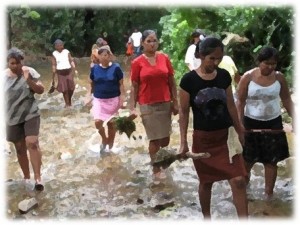 Flora's experiences are part of a wider trend in how non-governmental organizations (NGOs) and governments are attempting to incorporate women into social and economic development. Many international policymakers have argued that women's participation in development programs has the potential to alleviate poverty and advance women's equality. Yet how do these strategies affect the everyday lives of poor women? To answer that question, I conducted participant observation and in-depth interviews with women who have been involved in various NGO and state-led development programs in a village I call Loma Verde in northwest Nicaragua. Women's tasks within these programs typically involve some combination of village clean-ups, child care, and/or health education and training.