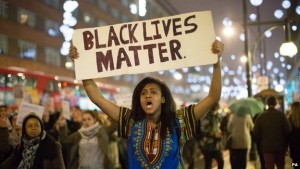 Over at Racism Review, fifth-year doctoral candidate (and UTAustinSoc editor!) Shantel Gabrieal Buggs has shared some findings from her dissertation in regards to dating practices, race and racism, and the Black Lives Matter movement:
As every good social scientist knows, words mean things. The  language around, and produced by, movements like BLM – particularly in regards to discourses of race, racial inequality, state-sanctioned violence, and racism – has influenced the ways in which the multiracial women in my study discuss race, racism, and inequality in the context of their intimate relationships. Several women have described using their own stances on the issues BLM addresses as a means of selecting potential dating partners. This finding suggests that BLM and other widespread social justice movements are having significant impacts on how people are navigating racial politics on an interpersonal level. This is particularly pertinent during a time where U.S. media and popular culture is especially focused on issues of racism and state-sanctioned violence.

Thus, Black Lives Matter provides multiracial women with a means of framing their commentary on racism, racial inequality, and violence. Often, these women describe trying to find a "middle ground" in which to exist politically, so as to not fall within the so-called "extremes." This middle ground calls to mind the notion of mixed-race people being a "bridge" between communities. The "middle ground" also suggests that to be on the extremes is to identify too closely with blackness or to not be "beyond" race. Thus, many women expressed contradictions over the course of their interviews; for several women the tensions around race and racism are issues of "diversity" and something that these women perceive black people to be "ethnocentric" about. It is telling that the multiracial women who believe that the concerns of BLM are solely concerns for black people are women who are not of black descent. However, women of myriad mixed racial backgrounds – including those who are not part black – noted that the issues the movement highlights are concerns for us all.
Read more here!