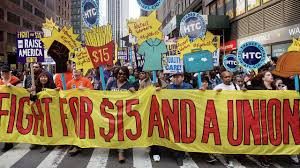 Professor Christine Williams shares some thoughts on college students (and others) who work minimum wage jobs to make ends meet as we enter Labor Day weekend:
It's true that incomes have not kept up with inflation, so one could argue that virtually all workers deserve a raise. I agree. But we must focus specially on students. Some low-wage employers justify the current low minimum wage by contending that their workers don't really "need" the money because they are students who are not dependent on their jobs for their livelihoods. But in today's world, students do need the money. And if we are going to treat fast-food jobs as a stepping stone to better jobs, then wages must be high enough to cover the cost of decent housing and the cost of education to prepare workers for better jobs.

Fast-food workers need a raise. The labor conditions that may have made sense for my baby boomer generation are completely out of touch with the needs of the millennial generation. On this Labor Day, let's remember that all workers deserve a wage that covers the rising costs of education and housing.
Read more at The Dallas Morning News!