This spring we are excited to launch Research Questions (RQ), a Q&A series profiling the faculty, graduate students, and alumni of the Sociology Department at the University of Texas at Austin. In brief conversations, this series looks at the diverse projects, interests, and sources of inspiration within the UT-Austin sociology community. We kick off the conversation with Professor Javier Auyero and Professor Simone Browne.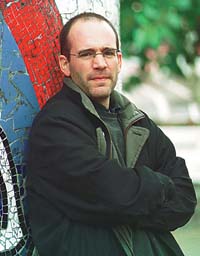 RQ: Professor Auyero, what aspect of your current work means the most to you and why?
Javier Auyero: Research and teaching are, in my mind, part of the same meaningful process. I love being in the field and I also love being in the classroom – discussing the latest fieldnote with a student, her new interpretation of an interview, or her novel ideas about a research project. For the past decade and a half, I've been more or less obsessing about a few topics – they guide my research and teaching: political clientelism, its relationship with collective action, the role of clandestine connections in politics, urban marginality and environmental suffering, and poor people's waiting as way of experiencing political domination.
RQ: Any exciting news you want to share with everyone?

JA: We are in the process of creating a new Center for Urban Ethnography in the department that will bring together under one roof all the existing energy and excitement about the craft of ethnography among faculty and students (and hopefully, new funding for graduate students!). I'm also thrilled about the progress of the new cohorts of doctoral students. Their projects show a daring combination of theoretical sophistication and socio-political relevance – it's a true pleasure (and a wonderful learning experience) to work with them.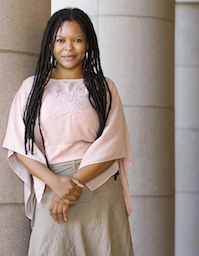 RQ: Professor Browne, what aspect of your current work means the most to you and why?
Simone Browne: Cases like that of Jakadrien Turner make the links to my current work on surveillance and black mobilities plain. I first heard about the case of Jakadrien Turner – the 15-year old African-American girl who was "deported" by ICE last spring to Colombia – through Twitter. That a US born teenager with reportedly little Spanish language skills was believed to be a Colombian citizen and rendered through the courts and the removal process is baffling, but in our times of extraordinary rendition, hospital deportations, and the signing of the National Defense Authorization Act, among other measures, it must also lead us to ask about the institutional mechanisms that the state and private actors make use of to allow for such a situation: fingerprints, immigration law, banishment, sexism, racism.
Turner's grandmother was able to find her through Facebook, and I find that to be a very important aspect of this case: the agential potential that social network sites allow for.
RQ: If you could collaborate with anyone, who would it be and why?
SB: That's a tough question, I could name about twenty people right now. Right now, I really like Nicholas Mirzoeff's (@nickmirzoeff) The Right to Look: A Counterhistory of Visuality and the work he is doing with others around the Occupy movement. Right to Look has, I think, made a really important intervention in theorizing surveillance in plantation economies and what Mirzoeff calls 'oversight' and 'revolutionary realism'. A dream collaboration would be to think through some of these concepts with him, making links to biometric technology, airports, CCTV and other surveillance practices. It would also be pretty neat to collaborate with visual artist Wangechi Mutu around some of the media coverage of black women who have been detained at airports, removed from airplanes, or subject to searches beyond the standard x-ray: for instance Laura Adiele who had her hair inspected by a TSA agent or Malinda Knowles who was removed from a plane on the suspicion that she was not wearing any undergarments. She was, incidentally. Mutu has said that "Females carry the marks, language and nuances of their culture more than the male. Anything that is desired or despised is always placed on the female body."
I would probably just hold the adhesive in that collaboration, but I still think it would be neat.
—-
Javier Auyero is the Joe R. and Teresa Lozano Long in Latin American Sociology at the University of Texas-Austin. He received his PhD from The New School for Social Research in 1998. His main areas of research, writing and teaching are political ethnography, urban poverty, and collective violence. He is the author dozens of articles (published in American Sociological Review, Theory and Society, Latin American Research Review, Journal of Contemporary Ethnography, Sociological Forum, etc.) and of Poor People's Politics (Duke University Press, 2000), Contentious Lives (Duke University Press, 2003), Routine Politics and Violence in Argentina (Cambridge University Press, 2007) and, together with Débora Swistun, Flammable. Environmental Suffering in an Argentine Shantytown (Oxford University Press, 2009). His new book, Patients of the State, will be published in 2012 by Duke University Press. He received fellowships from the John Simon Guggenheim Foundation in 2000 and from the American Council of Learned Societies in 2008 and grants from the SSRC and NSF. He was the editor of the journal Qualitative Sociology from 2004 to 2010.
Simone Browne is an Assistant Professor of Sociology at the University of Texas at Austin, joining in 2007. She is also affiliated with the Department of African & African Diaspora Studies, the John L. Warfield Center for African and African American Studies (WCAAAS), and the Center for Women's & Gender Studies at UT-Austin. She completed her PhD at the University of Toronto. Professor Browne's book-length manuscript in preparation, Dark Matters: Surveillance and Black Mobilities examines surveillance with a focus on biometric information technology, airports and borders, slavery, mobile communication, black mobilities and creative texts. Her article "Everybody's Got a Little Light Under the Sun: Black luminosity and the visual culture of surveillance" leads off the most recent issue of Cultural Studies and is available here. Professor Browne is also a member of the Steering Committee for the Humanities, Arts, Science, and Technology Advanced Collaboratory (HASTAC).