by Letisha Engracia Cardoso Brown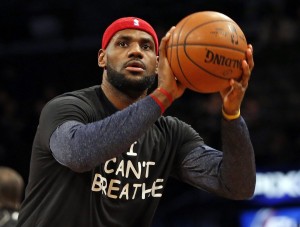 The last few years have seemingly seen a rise in outspoken "activist" athletes. In late-2014, LeBron James and most of the Cleveland Cavaliers wore "I Can't Breathe" warm-up shirts in solidarity with the #BlackLivesMatter movement to protest the murder of Eric Garner, a 43-year old Black man who was choked to death by Staten Island police in July 2014. Similarly, the University of California – Berkeley women's basketball team took to the court wearing homemade black T-shirts with the names of Black Americans who were either lynched or killed by the police in the Golden Bears' game against California State University – Long Beach. Also in 2014, Cleveland Browns wide receiver Andrew Hawkins entered FirstEnergy Stadium with a black sleeveless T-shirt worn over his uniform and pads inscribed with the message "Justice for Tamir Rice and John Crawford III."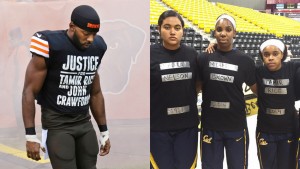 In 2015, in a show of solidarity with other students, the University of Missouri football team refused to take to the field unless their university system president, Tim Wolf (who had not adequately addressed issues of racism on campus), resigned. Within 36 hours Wolf was gone, prompting Missouri state legislators to engage in what sports journalist Dave Zirin terms "plantation politics"; in putting forth a bill that would revoke scholarships for any scholarship athletes who fail to perform for "any reason unrelated to health," Missouri legislators aimed to silence Black dissent, specifically the actions of the Mizzou Tigers football players.
It is in the midst of this particular activism-inclined sports climate that several journalists, activists, academics, and former athletes gathered in Austin this March to discuss the relationships between sports and politics. On March 11th, the co-sponsored event (co-organized by UT-Austin Sociology professor Ben Carrington), "Athletes as Activists: Lessons from Black Lives Matter and Beyond," brought together a panel of athlete-activists. Moderated by British journalist Keme Nzerem, the panelists Shireen Ahmed (athlete, writer, activist), Michael Johnson (former English Premier League and Jamaican national team football player), and Etan Thomas (former NBA player) facilitated a discussion about the role of athletes as activists. The room was full, with an audience of faculty, students, staff, sports writers, and curious residents of Austin, as well as SxSW visitors. The panel began with each panelist discussing their personal experiences as both athletes and activists and the intersections therein. From there, Nzerem asked a few more pointed questions to facilitate discussion, and then opened the floor to the audience itself.
The panelists discussed the ways in which athletes have acted as activists throughout history, while simultaneously connecting their own experiences to contemporary instances of athletes as activists. One of the central stories shared was that of the Mizzou Tigers football team, and their successful stand against former university-system president Tim Wolf. The Tigers operated in solidarity with the student population of the university, including one student who had engaged in a hunger strike against the president. What their stand contributed, as noted by Etan Thomas, was a form of collective power. As student athletes, the football team generates revenue for the university, and by refusing to play, that revenue was put in jeopardy. Though their actions were later met with backlash and antagonism, they showed in that moment that power that comes from a unified front of student athletes—the power to get things done.
The panel highlighted the Mizzou action as a recent example of athlete activism, but also made it clear that taking such measures is not an easy thing to do. The act of being both an athlete and an activist simultaneously provides a platform and runs the risk of taking serious heat. Nevertheless, each panelist, in their own way, made clear the value of being both an athlete and an activist, especially in instances of solidarity and support.
The conversation was rich and varied, drawing on topics such as the lack of representation of people of color and women on athletic organizational boards, the continued issues faced by women in sport – particularly as they intersect with race, religion and sexuality – as well as the importance of all students (athletes and non) advocating for their own rights. The panel brought to the fore many diverse voices – faculty, student athletes, graduate students, sports writers and more.
One thing that was made particularly clear during this panel discussion was the intersection of sport and politics, and the interconnectedness of social movements and sports. Athletes have the ability to bring attention to larger societal issues on a major scale, and though using their voices to bring issues of injustice is often met with backlash, it is important to remember that the platform, power, and privilege does exist.
---
Letisha Engracia Cardoso Brown is a 6th-year doctoral candidate in the Department of Sociology. Her research interests include race, embodiment, social relationships, food practices, and sport. Her dissertation explores middle-class Black American food practices in Austin, TX.