by Paula Benavides
On March 9-10, Tulane University's City, Culture, and Community (CCC) program hosted their 2017 symposium entitled, "Sites of Resistance: From Local to Global." For their keynote speaker, the conference organizers invited UT-Austin Sociology's own Professor Harel Shapira, and extended the invitation to a group of graduate student members of the Urban Ethnography Lab to participate in the concluding remarks.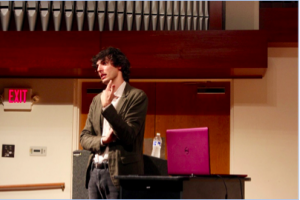 In his presentation, "The Culture of Justifiable Violence in America", Professor Shapira dove into a brief yet riveting account of some of his fieldwork in National Rifle Association (NRA) firearm training classes. Through his ethnographic analysis, he revealed the ins and outs of the mentality of such classes, how individuals get habitualized into shooting guns, and the subtle "double-coding" that enabled participants to see firearms not as weapons but instead as tools. During the Q&A section, the audience raised critical questions regarding the moral and ethical repercussions of shooting guns, to which Shapira shared a set of fascinating observations regarding the gun culture in America.
Moderated by Professor Shapira, the concluding panel, "Ethnographies and Time", included three UT-Austin's sociology graduate students – Riad Azar, Alejandro Márquez, and Alejandro Ponce de Leon – who discussed the relationship between time and space. Each panelist focused on his respective field site, inviting the audience to think how "time" is an intervening variable within ethnography. In this panel, the audience was left to question how does time play a role in the way we analyze data, how do we know when we have reached data saturation, what does data do to our ways of thinking, and how does time affect our research subjects?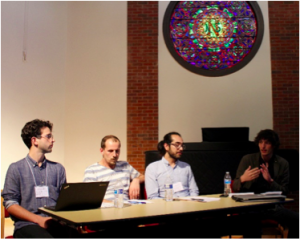 In his presentation, "What does it mean to go into the field?" third-year doctoral student Alejandro Márquez discussed the idea of urgency in regards to undocumented migrant populations and the perils they face on their journeys to the United States. Alejandro had volunteered at a migrant shelter in the past year; during his fieldwork, the director of the shelter did not see academic research as a viable way of conveying the urgency and the imperative need for assistance from the community. From the director's perspective, academics study migrant groups and the shelter but rarely do anything to truly help them through their plights, and therefore their participation is fruitless and ineffective. Alejandro unpacked the potential to translate the urgency of the situation into academic work by questioning how much solidarity can be shown to these groups through the academic research. Without this translation of the urgent need for help, can academics show any kind of real solidarity? Can this conundrum help academics arrive at a better definition of solidarity?
Second-year doctoral student Alejandro Ponce de León concluded the panel with his presentation, "Revisiting spaces: Affective Geographies amidst a Civil War." Alejandro discussed revisitation and its implications for social theory, using the field notes and transcripts from a research project on Internally Displaced Populations (IDPs) in Colombia's civil war that he conducted in 2011 – 2012 as his evidence. Through a set of interviews with shantytown dwellers in Medellín, Alejandro dove into a space that only existed in memories. The no-longer existent space is quite difficult to understand or analyze if the ethnographer has to rely on the recall of such a space in time; in response to this, he asked the audience to consider how accounts are perceived differently when re-addressed by the ethnographer after mulling over the data later in time. He also argued that sociologists need to "slow down" their theories in order to offer other kinds of accounts that more closely resemble the web of meaning of everyday life, rather than the solid edifices where our vocation is rooted.
Each of the panelists provided unique and relevant examples that introduced the intricate relationship between time and space in regards to ethnography. By discussing their various methods and obstacles they invited the audience to contemplate how ethnographers address these kinds of questions and how that can affect or be implemented into the research.
---
Paula Benavides is a third year Anthropology and Latin American Studies undergraduate student. She is in the Intellectual Entrepreneurship (IE) Pre-Graduate Internship program, which allows her to participate in the conferences and classes of her graduate mentor, Alejandro Ponce de León. Her research interests include race, gender, and sociopolitical conflict and resolution.