by Brandon Robinson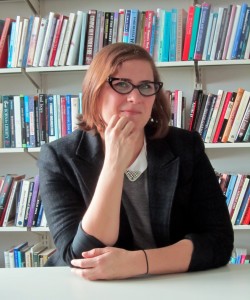 Cati Connell, an Assistant Professor of Sociology at Boston University, gave a talk this Monday, October 14, 2013, about her experiences as a queer, qualitative researcher on the academic job market. She received her PhD in Sociology from the University of Texas at Austin in 2010, sharing her job market experiences from three years ago with current graduate students. Her job market tips, tricks, and terrors were personal accounts that many can learn from.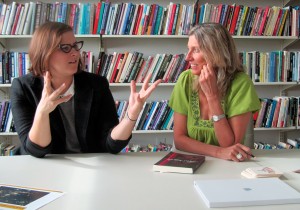 In the first part of her talk "On Being Qualitative," Cati realized that one of her main strategies in being a great qualitative researcher was to publish. She set a goal to publish just as much as the quantitative members in her cohort, which meant early and often. Cati advised co-authoring with faculty or other graduate student colleagues in order build one's publication record, even before obtaining a Master's degree. She also emphasized the importance of finding good mentors who have strong social capital (for her, Christine Williams). These mentors can be very beneficial in helping you become a productive graduate student and in navigating the market more successfully. Qualitative researchers should aim high early, so they can set themselves up for success on the job market later in their careers. Once on the market, Cati recommended applying broadly and reading job advertisements very closely, to see how one could be a fit for a certain job. Do not waste time applying for jobs that are not a good fit. A common example would be if a job specifically seeks a quantitative scholar, do not apply if all you do is qualitative work. Being oneself in the job application process is as important to hiring committees as the type of scholar you are based on your CV.
One thing all should remember is that the job market is not a meritocracy. There is real discrimination on the job market, and search committees can be racist, sexist, homophobic, and trans phobic. However, Cati told us that we should focus on the success stories of people who study marginalized sub-disciplines (like sexuality and gender) in order to not be discouraged. Scholars like Cati, who is at Boston University, Kristen Schilt at the University of Chicago, and Tey Meadow, who was a fellow at Princeton and will now be a faculty member at Harvard, are leading by example. While the academic job market is still hard for people who study marginalized subfields, the field on the whole is also changing, so focusing on success stories can help in making the market less daunting.
Cati also talked about "Being Queer" on the job market. She recognized that her own embodiment as white and gender conforming probably helped sooth the fears of hiring committees. It is also important to take into account one's family and community needs while looking for a job. If having a vibrant LGBTQ community is important or having a pool of potential queer dating prospects is important, one should take these factors into account when applying for jobs. Be careful about applying for jobs in cities where you are not willing to move, though you should remain open-minded about non-urban opportunities, not assuming they have no LGBTQ people/communities. Navigating conversations about one's personal life during the job interviews and dinner outings can be stressful, but you can generally choose to be as open as is comfortable. Nonetheless, Cati left us with great advice that anyone can use for their job talk, "Be confident in who you are and what you bring, and don't apologize for it."
Job Market Resources
Blogs:
Conditionally Accepted: A Space for Scholars on the Margins of Academia
http://conditionallyaccepted.com/
The Professor Is In: Getting You Through Graduate School, The Job Market, and Tenure
http://theprofessorisin.com/
Get a Life, PhD: Succeed in Academia and Have a Life, Too
http://getalifephd.blogspot.com/
Social Inqueery: A Publicly Accessible Queer Social Science Blog
http://socialinqueery.com/
Sociology on the Margins
http://sociologyonthemargins.com/
ASA Section on Race and Ethnic Minorities Mentoring Blog
http://srem-mentoring.blogspot.com/
Queer Black Feminist (Andreana Clay)
http://queerblackfeminist.blogspot.com/
Crip Confessions: Rants of a Crip Sexologist
http://cripconfessions.com/
How To Leave Academia: Peer to Peer Post academic Support
http://howtoleaveacademia.com/
Books:
The Black Academics Guide to Winning Tenure – Without Losing Your Soul, Kerry Ann Rockquemore
Professors as Writers: A Self-Help Guide to Productive Writing, Robert Boice
Presumed Incompetent: The Intersections of Race and Class for Women in Academia Paperback, edited by Gabriella Gutierrez y Muhs and Yolanda Flores Niemann
The Academic Job Search Handbook, Julia Miller Vick