By Brandon Andrew Robinson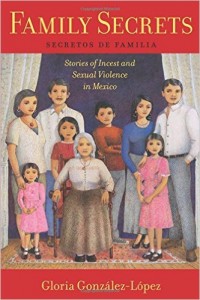 On November 16, 2015, Dr. Gloria González-López participated in an author-meets-critics panel discussion about her new book Family Secrets: Stories of Incest and Sexual Violence in Mexico. The event was hosted by the Center for Women's and Gender Studies to commemorate the International Day for the Elimination of Violence Against Women, and Erin Burrows, the Prevention and Outreach Specialist for Voices Against Violence, moderated the panel. It was a lively and necessary discussion where three panelists – Dr. Angela Valenzuela and UT Sociology doctoral students, Erika Grajeda, and Juan Portillo – offered their "compassionate critiques" of Dr. González-López's work.
The discussion began with Dr. González-López describing why she studied incest in Mexico. She wanted to do something to help her community in Ciudad Juárez, and so she asked people in the community what type of research was urgently needed. A great deal of research had been done on the femicides in Ciudad Juárez, but nothing had really been studied about incest within Mexican families. Heeding this advice and wanting to engage with a community that she cares about, Dr. González-López decided to conduct 60 interviews with women and men who live in four Mexican cities (Ciudad Juárez, Guadalajara, Mexico City, and Monterrey) and who had experienced incest. She also interviewed 35 professionals who work on this issue. After gathering these stories, Dr. González-López found it ethically and politically important to tell these stories as they were told to her and to not sanitize the stories. For this reason, she writes Family Secrets through the method of storytelling, where she presents the stories together in each chapter before offering any structural analysis. This method captures the complexities and gray areas of people's lives, revealing how theories and concepts can never fully encompass the nuances of people's lived experiences.
After Dr. González-López gave this brief overview, Dr. Valenzuela was the first to offer her comments on the monograph. She commended Dr. González-López for her emotionally engaged research and for her provocative concepts. She also expressed her fear of what this book might look like in the hands of someone like Donald Trump, who may use this book to pathologize Mexican people. However, Dr. Valenzuela believes that not telling these stories is a greater cost, and that Dr. González-López does an amazing job of analyzing the stories, giving the reader a way to contextualize and understand incest in Mexican society. Dr. Valenzuela also read what she thought was one of Dr. González-López's provocative ideas: "Thus, the undercurrent or continuum that flows through a woman's unique subjective experience and all women's commonly shared experiences of sexual violence seems to suggest that consensual heterosexual sex and rape may have more in common than what one may want to accept" (pg. 110-111). Given this finding, Dr. Valenzuela raised the question of what is a healthy sexuality? And what are the solutions to ending incest?
Following Dr. Valenzuela, Erika Grajeda offered her thoughts on Dr. González-López's book. Erika found the book to be brave, especially in Dr. González-López's challenge to take on the family as an institution that reproduces incest and patriarchy. Erika also appreciated Dr. González-López's analysis of internalized sexism, where women in the family may also be complicit in these incestuous arrangements and reproduce patriarchy as well. Erika raised some poignant questions that really made the preceding discussion engaging. She asked Dr. González-López: How is her conceptualization of consent and rape different than radical feminists? How do sexual scripts shape how women and men describe their sexual experiences, especially when discussing consent and coercion? And what is the difference between incest and abuse and what is the role of the state in perpetuating and/or solving these issues?
After Erika's insightful comments and questions, Juan Portillo gave his reflections and comments on Family Secrets. Juan saw Dr. González-López's two biggest contributions as her ethical methodology and her feminist standpoint, which combined gave a nuanced explanation of sexual violence. As life is more complicated than our concepts and theories, Juan pondered how do we make sense of sexual violence when the same logics that we use to try to end it are potentially the same logics that reproduce it. Given that we live in a society structured by inequality, Juan asked Dr. González-López if sex is ever completely consensual. He also wanted to know more about Dr. González-López's choice of language – in her not wanting to use "survivor" or "perpetrator" and her writing about a gender non-conforming participant.
After these three wonderfully engaging compassionate critiques, Dr. González-López gave her brilliant responses to each of the three panelists. In response to Dr. Valenzuela, Dr. González-López pondered, what do we mean by healthy? Who defines healthy? Who is privileged enough to even have sex or be sexually healthy? As for solutions, Dr. González-López discussed that laws around sexual harassment in Mexico may expand to include relatives. She also talked about a research participant, whose mother believed her when she disclosed being raped by her father. This mother believing her daughter was a form of family justice and feminist practice that protected this woman from experiencing emotional damage. Other interesting topics that were discussed during Dr. González-López's responses were that women are sophisticated, so seeing them as just victims does not capture their full lived realities. Also, life is messy and complicated and our abstract concepts will never fully get at the gray areas of our lives.
All in all, the panel discussion was thoughtful, provocative, and an important discussion. Family Secrets is a painful but necessary intervention into the field of sociology, sexualities, and sexual violence. In not sanitizing people's stories, Dr. González-López pushes all of us to face the complex realities of people's lives. Only in facing these messy nuances can we truly begin to find solutions to solving this social problem. It is with Dr. González-López's compassion and ethical wisdom that makes Family Secrets a timely and important book that will re-shape the field of sociology for the better.
—
Brandon Andrew Robinson is a doctoral candidate in the Department of Sociology at UT-Austin. His dissertation is a qualitative exploration of the lives of LGBTQ homeless youth in Texas.