by Ronald and Jacqueline Angel, July 31, 2014, Routledge.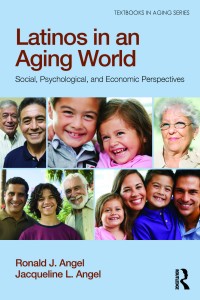 In 2010 during a speech in Potsdam, German Chancellor Angela Merkel told the audience that the nation's attempt to create a multicultural society had been an utter failure.  During his failed 2012 reelection campaign President Nicholas Sarkozy of France proclaimed that France had too many immigrants.  Recently, Prime Minister David Cameron of Britain pledged to restrict the use of social services by immigrants.  These are only three examples of the growing rejection of foreigners and the threat to national cultures and identities that they represent that is a growing part of political discourse in Europe.  The nations of Europe are having to face the fact that they are increasingly multicultural and are heavily dependent on immigrants from the developing world, yet that reality is not easy for many to accept.  The fact that many of the newcomers are Muslim adds to the fear and rejection.
Unlike Europe, the United States has always thought of itself as a nation of immigrants, although new arrivals have not always been welcomed warmly by those who came earlier.  Immigration to the United States is not new, but its nature has changed.  Today immigrants come from Latin America and Asia rather than from Europe.  The result is a truly multicultural nation in which race and ethnicity intersect social class and other factors to influence various groups' wealth and political power.
Although many Latinos have been in the United States for generations, much media coverage and political reporting focuses on immigrants, and many Latinos remain outside of the economic and social mainstream for generations.  As in Europe, many Americans fear the newcomer and like Political Scientist Samuel Huntington believe that Latinos are not assimilating as did previous immigrants, and that they reject the Anglo-Protestant values that built the American dream and are creating separate societies that threatens the nation's cultural unity.
After thirty years of research on and writing about Latinos and other vulnerable populations we  have written our first textbook, which is scheduled for release on August 1, 2014 by Routledge.  The book consists of ten chapters that deal with all aspects the Latino experience in the United states.  It deals with demographics, education, employment, wealth, and income for the major Latino subgroups and compares them to Asians, African-Americans, and non-Hispanic whites.  The book also deals with social and psychological issues related to neighborhood quality, fear of crime, and the determinants of well-being.  It summarizes the most current and authoritative research on Latinos available and presents some of our more recent work.
The book takes a life course perspective on the welfare of the Latino population.  Low levels of education early in life lead to restricted employment opportunities, low income, little wealth accumulation, and inadequate retirement savings.  Since the Latino population is aging rapidly, the book deals with issues related to family structure and the sources of care for older parents.  Latinos depend heavily on their family for care and support in old age and tend not to enter nursing homes.  The book summarizes findings on the phenomenon of "caregiver burden," a term that refers to the physical and psychological demands associated with caring for a seriously ill parent.
One might ask about the process of writing a book, especially a co-authored book.  This is the fourth book that we have written together, so we have some insights.  The fact of the matter is that it is not always smooth sailing.  Writing a book, or even an article with anyone requires a logical division of labor that capitalizes on everyone's strengths, as well as a willingness not to have everything one's own way.  Determining what those strengths are and how they complement others is a necessary first step.  Luckily, after four books and numerous articles we seem to have found the formula.  We would be happy to talk to anyone about the topic or the process of writing or finding a publisher.