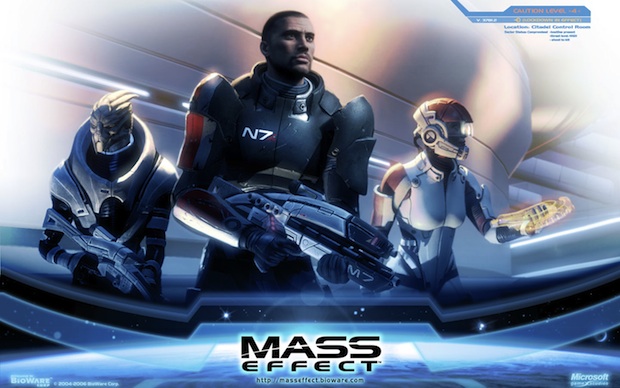 When we're not hard at work, sociologists here at UT Austin try our best to unwind.  Sometimes, that means enjoying the beautiful Austin air, and sometimes it means sitting down on the couch, picking up a controller, and playing some video games.
One of my favorite set of video games I have played since my parents brought home our Super Nintendo in the early 90s has been the Mass Effect series, which takes place roughly 200 years in the future.  Humankind has stumbled upon interstellar travel and has found itself mixed up in a complex web of galactic politics that has been brewing for centuries amidst a variety of different alien civilizations.  Just as we're solidifying our new position in space, massive synthetic life forms known as the Reapers begin harvesting the galaxy's civilizations.  It's up to you, as Commander Shepard of the Human Alliance Navy, to stop the Reapers, save humanity, and restore peace to the galaxy.
OK, but what really makes Mass Effect such an interesting series?  Like most other video games, the player has a considerable amount of control over the protagonist's actions.  When I'm reading a novel, I may identify with a protagonist, but I don't expect to be able to exert any control over him or her.  In a video game, I can make Mario jump, duck, and run.  Mass Effect takes this to an entirely different level: I can make my Shepard be male or female and adjust his or her physical characteristics, jump over carts, duck, run, shoot… and make weighty moral and ethical decisions that could potentially impact my entire experience moving forward.  Part of the fun with Mass Effect is engaging in conversations and learning more about the galaxy and the diverse individuals it's made of.  I can have Shepard use her influence as a paragon to uphold peace in the galaxy, or I can act in a more renegade fashion, serving humanity's best interests with brutal efficiency.  The choices don't just matter in one given game, however: players can import their characters and their decisions from the first game into the second, and from the second into the third.  As a result, decisions I made as Shepard in 2007's Mass Effect 1, and 2010's Mass Effect 2, matter today in 2012 when I play Mass Effect 3.  My female Shepard was an orphan war hero, but yours might be a grizzly looking guy who let his whole squad die. It's easy to see how gamers have become intensely attached to their own, personalized Shepards.
Of course, Mass Effect"s developer, BioWare, is well known throughout the industry as giving players considerable choice throughout their games.  In their 2003 critically-acclaimed Star Wars: Knights of the Old Republic, you could fly around the Star Wars galaxy, wielding your light saber, and play as a "light side" or a "dark side" character; and Dragon Age: Origins had hours upon hours of side quests to explore with your character.  With increasing success, BioWare was bought for $860 million in 2007 by Electronic Arts (EA), widely considered to be one of the foremost video game publishers in the business.
If this sum seems like a lot, we have to remember that the video game industry itself is huge.  According to the Entertainment Software Association, more than $25 billion was spent on games, consoles, and accessories in 2010 alone.  In fact, The Economist recently released an article citing a consulting firm that actually put the video game industry's worth at closer to $56 billion.
Certainly, money is one way of understanding influence, but when over 70% of American consumers are playing with interactive media, it seems a ripe site for studying social forces. But, with some notable exceptions, the industry and its products are generally left relatively undiscussed in sociology.
Now, originally, I had planned on writing a post on gender and sexuality in the Mass Effect series.  There are not too many female sociologist gamers, and I felt that I could offer a unique perspective on the series.
Then, I finished Mass Effect 3.
And by "finished" I mean, I threw my hands up in the air, my eyebrows scrunched together, and said, "That's it…? Really?!" I would be lying if I said there weren't expletives. Without spoiling the ending itself, after learning the Reapers' motivations, the player is left making one final choice. The differences between the choices are inconsequential, though, and there is arguably no resolution of your weighty decisions over the course of hundreds of hours of rich, meaningful gameplay.
Apparently, I am not the only one that felt a bit hoodwinked, though. The last two weeks, the internet has been ablaze with impassioned discussion on the ending to the series.  Video game websites such as Kotaku, GameFront, and Penny Arcade have each expressed gamers' discontentedness with the ending.  Mainstream news outlets like the Wall Street Journal, Forbes and USA Today noticed the uproar, and even the game's Executive Producer, Casey Hudson, and BioWare's co-founder Dr. Ray Muzyka weighed in on the discussion in attempts to address fans' criticisms.  [Of course, please note that these external links may include some spoilers]
Why did the Mass Effect series leave us feeling so cheated? And why is sociology helpful in trying to explain this?
First, let's talk about structure and agency, one of the frameworks we in sociology use to explore how individuals act in society and how society acts on individuals.  Imagine that I need to get from point A to point B: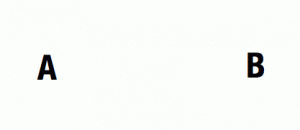 Now, there are any number of ways that we could get there, as evidenced by my bright-colored squiggly lines a la Microsoft Paint: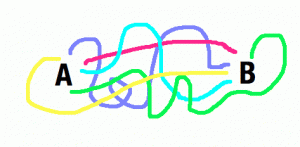 I have the agency to get from A to B in whichever way that I choose. But of course, this isn't how real life works. We live in a society that is in many ways constricted by laws and norms of behavior, one that gives us boundaries and structure: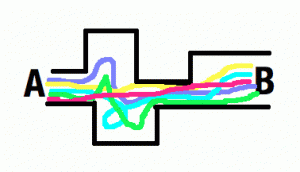 While I can still get from A to B in a path of my own choosing (my agency), I am forced to go through socially constructed channels to get there (structure). As a result, sociologists often question how much agency individuals truly have in deciding their own social situations.
But why talk about structure and agency? What does it have to do with Mass Effect and its ending? As it turns out, everything.
In Mass Effect, we exhibit our agency and make different choices or perform certain missions in a different order, but, at the end of the day, all Shepards will experience certain key plot points and missions through the plot structure that BioWare has laid out for us.  It's sometimes hard to remember this, when it feels like it is we ourselves who are convincing a squad mate to make amends with his son, or saving data that could potentially save an entire alien species from a genetic birth disorder.
What I imagine fans of the series had envisioned of the ending was a series of vignettes that would show how your choices across the series, both big and small, had impacted the galaxy.  Of course, these endings would still be governed by BioWare (the circle "structure"), but the amount of variety between my experience as Shepard and someone who made different choices would be notable (the different colored dots):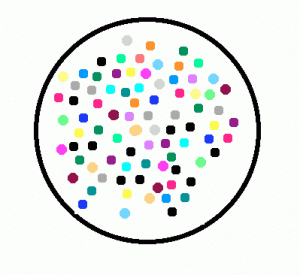 Instead, BioWare gave us these potential endings:

Even more frustrating, the three endings differ only slightly from one another.  Sure, many video games and other plot-driven media only feature one ending, so why be upset at all?  I suppose the ending to the Mass Effect series seems a bit underwhelming, especially after the series has been established as one that has placed heavy emphasis on a relatively wider structure of choice and outcome.  As a gamer, it's hard to realize that, ultimately, my resolution with Shepard is not actually determined by me, but by the game's producer.  And while my background in sociology helps me understand why my experience with Mass Effect 3's ending was so jarring, I'm not sure it actually makes me feel better about how BioWare overly constrained players' agency with too narrow of a structure.