It is always poignant to say goodbye to our good friends at graduation, but we are very happy to celebrate their success.  Special thanks to Dr. Chris Pieper for his reflections on his time at UT – placements included in the photo details below.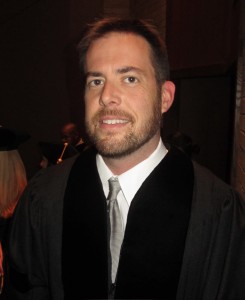 I have taught at three universities since becoming a doctoral candidate at Texas in 2007 — Southwestern University, the College of William and Mary, and Baylor University. At each one, I found that my UT training had prepared me well for nearly every kind of classroom, intellectual, and departmental challenge. Many of these lessons were learned from my UT classmates through countless hours of conversation and bonding outside of the classroom. The great Gideon Sjoberg told me when I started the program in 2004 that this would be the case, and, of course, he was right, though I was skeptical at first. The importance of close relationships with fellow students cannot be overstressed, and UT is peerless in cultivating a climate that makes this possible and easy.

There have been innumerable occasions post-UT when I've realized that something good I just did in class or said to a student or wrote came directly from an experience in the department. I was too busy to appreciate these gifts at the time, sadly, but like many things in life, they become more obvious with time and perspective. For me, so many of these blessings came through involvement in "Power, History, and Society" — the affinity group for political sociology and comparative/historical students. Leadership and involvement in PHS gave me preview of what being a departmental citizen is like: building an academic community through service and love of knowledge. I hope this tradition is continued in the department in a variety of forms.

I miss Austin constantly, but it is now only 95 miles away — a distant but familiar companion I can always return to. Austin is like a family member now; I can't imagine ever living too long or too far from it. But her memories and embrace are with me no matter where I go. Just like UT and the amazing sociology department I was fortunate enough to be part of for 7 years.