by Jamie O'Quinn and Katie K. Rogers
Feminist sociologists from UT Austin and members of the department's gender working group, Fem(me) Sem, were well-represented at the annual winter meeting of Sociologists for Women in Society (SWS) this year in Atlanta, Georgia. The conference offered presentations, sessions, and workshops that engaged the theme of "They Persisted: Feminism, Work, Activism, Resistance."
This year's meeting addressed pedagogy and academic freedom in the age of hate speech and "fake news," and tackled ongoing issues of race and racism in the academy, the discipline of sociology, and SWS as an organization. SWS President Adia Harvey Wingfield of Washington University in St. Louis convened plenary sessions on topics such as gender and precarious labor, feminism in the academy, and race, gender, and feminist activism.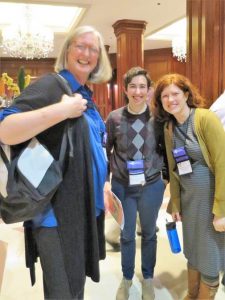 Plenary sessions and workshops spotlighted the voices of faculty and activists of color who, in addition to sharing critiques of existing systems, offered strategies for the path forward. They urged feminists to make careful decisions about how to reform and transform their departments without experiencing burnout. They reminded young scholars that joy exists in research and teaching, even within institutions that can feel impossible to change. They also pushed white feminists in the audience to reflect on their own politics of solidarity, and consider how they might show up more effectively to build coalitions with feminists of color in their institutions, organizations, and networks. Ultimately, they challenged all feminist scholars to, as stated by sociologist Tressie McMillan Cottom of Virgina Commonwealth University, "figure out the difference between performance politics and solidarity."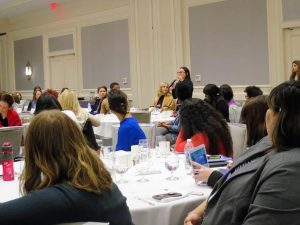 A contingent of feminist sociologists from UT Austin represented the department, with presentations that centered gender in varying ways. One highlight was a session that grew from Fem(me) Sem's Spring 2017 conference, "The Gender of Ethnography and the Ethnography of Gender," which was organized by a group of  sociology graduate students who were interested in using feminist methods in their research. The session, called "Feminist Ethnographies: Dilemmas from the Field," featured Professor Christine Williams as a discussant, and UT Austin graduate students Shannon Malone, Vrinda Marwah, Ruijie Peng, Beth Prosnitz, and Katie K. Rogers as panelists. They grappled with a number of questions related to feminist methods, including what exactly makes a research design "feminist," how to manage demands for "proof" in response to situated knowledge, what it means to "gain access," and how to reckon with accusations of "bias," particularly with respect to projects that center a researcher's own community ("me-search") or emerge from explicitly feminist commitments.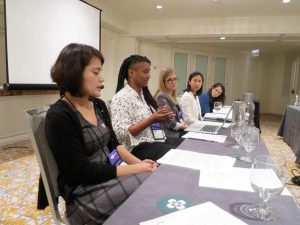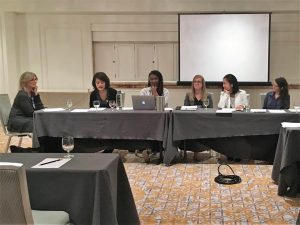 UT Austin also exhibited a presence among the individual paper presentations, with graduate scholars sharing feminist research on topics that ranged from intimate relationships to the gendered state to issues of gender, race, and labor.
A list of individual papers by UT Austin graduate students is as follows: 
Caitlin Carroll
"Antiviolence Organizations in Sweden and the Reproduction of Gender Regimes"
Jess Goldstein-Kral
"The Relationship Dynamics of Polyamorous Triads: Resisting and Reproducing Inequality"
Jamie O'Quinn
"Emerging Sexualities: Girls' Sexual Agency and the State"
Katie K. Rogers
"Gender, Race, and Class in the U.S. Legal Cannabis Industry"
Kara Takasaki
"Racialized Masculinities: How Work Shapes the Lives of Asian American Men"
All told,  the feminist scholarship and engagement of graduate students, alumni, and faculty affiliated with UT Austin Sociology helped make this year's SWS conference an event to remember.
---
Jamie O'Quinn is a second-year doctoral student in the Department of Sociology. Her research interests center around sexuality, gender, race and ethnicity, and social inequality. She is currently researching state efforts to regulate young people's sexualities.
Katie K. Rogers is a third-year doctoral student in the Department of Sociology at the University of Texas at Austin. Her current research examines how women who work in the U.S. legal cannabis industry reconfigure the meanings of "dealers" and "users" during legalization.