By Marta Ascherio
There are many resources in Austin allotted to ending homelessness, including a nearly two million dollar grant for the Innovation Team "to experiment with new ways to house the homeless" (http://projects.austintexas.io), and $18.2 million for a complex with 50 furnished housing units and mental health counseling and substance abuse treatment funded by The Texas Health and Human Services Commission.
The city of Austin uses a "housing first" model to combat homelessness, which prioritizes shelter and medical needs above all else. In a recent report, the city of Austin Innovation Team suggests that this approach is limited and contributes to deteriorating mental and physical health. They suggest a model that is centered around social, emotional, and mental health needs along with the rest (shelter, food, income, etc.) as part of a comprehensive, holistic approach to dealing with the "problem of homelessness". After spending a semester doing ethnographic fieldwork with homeless service institutions and people in Austin experiencing homelessness, we suggest that rather than trying to end homelessness, perhaps the focus could be on initiatives that make homelessness less bad, less scary, and less dangerous for those experiencing it. The following points were shared at a presentation on Tuesday May 1st , 2018: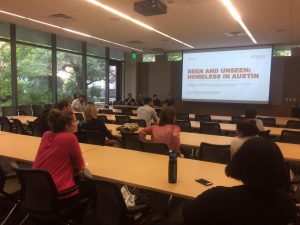 1) Social Networks, by Jess Goldstein-Kral. The Austin Resource Center for the Homeless (ARCH), is a location where there are services and day-sleep for all people experiencing homelessness and serves as a men's shelter at night. There is ongoing conversation about the space right outside the ARCH where many people gather. Business owners are concerned about it as an eyesore, service providers are concerned that it scares away people who need services, the city is concerned that is a hub for selling K2, prostitution, or other illegal activities.
What seems to be missing from this discourse is that this gathering place is an integral aspect of people's social networks. It operates as an alternative or supplementary source of services and support for people experiencing homelessness. People share phones, food, clothing, sell leftovers, and receive donations that are dropped off here. Others do business, both legal and illegal, which serves both for income as well as relationship building. Couples can sleep next to each other outside the ARCH, which is prohibited in homeless shelters and nearly impossible for heterosexual couples do to the gender segregation of shelters.
2) Sex and Privacy, by Jamie O'Quinn. The people sitting outside the ARCH might be considered a nuisance or an eyesore, but they also do not really have anywhere else to go. Experiencing homelessness means that you are constantly visible. For example, if you're sleeping outside, in a bunk room at a shelter, or on a mat at ARCH or Salvation Army on the 1st floor, you are visible to either the public, staff and volunteers, or other people experiencing homelessness.
Not having access to privacy also means that people have limited access to sex that is private and pleasurable. While the Condom Distribution Network distributes condoms to people experiencing homelessness, at the ARCH and at other locations, there exists no free, public space where it is legal for people to have sex.
For instance, Daniel, a 46 year-old Hispanic man, told me that he had sex in port-a-johns so that he can have sex in a private place. Taylor, a 30 year-old Black man, told me that he either saves up money to have sex in a motel or has sex outside with a "lookout" so that he can have privacy.
3) Invisibility, by Alex Diamond. Being constantly visible not only structures outer activities but can also result in an internalization of invisibility. One man experiencing homelessness, Tyler, speaks about his time staying by Lady Bird Lake: "You get used to a public audience, get used to having to do things in view of public. You block that out. People become a blur. It's as if you don't exist, it's as if you're invisible. Generally they don't acknowledge your existence. You begin to feel invisible. Because of that, you're a little more relaxed about having to do certain things like comb your hair. That becomes background. That becomes a blur. They become as invisible to you as you become to them."
To circle back to the opening point – there are a lot of initiatives on homelessness in Austin, they put housing first, community first, or user needs first, what we hope to do here is to put the experience of people who are homeless front and center, not necessarily as users or clients but as people who seek out privacy, dignity, and safety. Tyler, among the many poignant and insightful things he said also brings the issue to its core: "they can tell you a million places they don't want you to be, but they can't tell you where to go". This quote sheds light on the crux of the issue: there is nowhere for people experiencing homelessness to just be.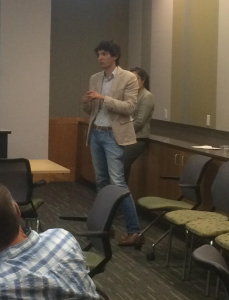 To conclude, there seems to be a mismatch between what services are provided, and what people experiencing homelessness need and value. Perhaps services could be designed with more user input, there could be explicit efforts to include people experiencing homelessness in decision making processes, and programs to serve the homeless could be more effective if there was an explicit role for people who either previously or currently experience homelessness.
Ethnographic methods research team: Marta Ascherio, Alex Diamond, Jess Goldstein-Kral, Alicia Montecinos, Jamie O'Quinn, Felipe Vargas, Abraham Younes
Professor: Harel Shapira
---
Marta Ascherio is a second-year doctoral student in the Department of Sociology and a graduate fellow of the Urban Ethnography Lab. Her research interests include immigration, crime, and social control.