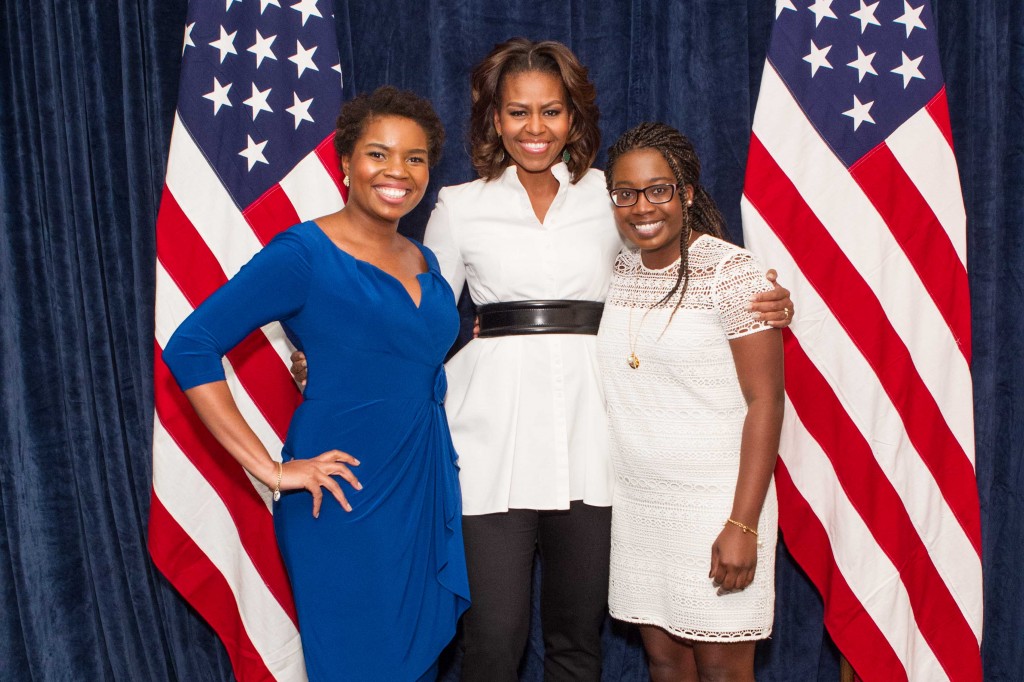 by Letisha Brown and Jane Ebot
On January 27th I received a phone call that set the stage for the rest of my year. It took four calls from the random District of Columbia phone number before I answered and learned that my name had been pulled for a chance to attend a lunch and have my photo taken with the FLOTUS herself, Michelle Obama. The lunch as a part of the DCCC Women's Luncheon to be held in San Francisco January 31st. Not only would they pay for the hotel and a flight for me, but a guest as well! Immediately I thought about one of my mentors—whose office I had been in not twenty minutes before, the person who suggested I answer the call—Jane Ebot.
Still not quite believing it myself, I left my collaboratorium in search of Jane. Heart pounding, still in disbelief, I walked into Jane's office and asked if she had plans for the weekend. She replied that she'd be working on her dissertation, to which my excitement increased, "How would you like to go to San Francisco this weekend and meet Michelle Obama?" Excitement and disbelief engulfed her as well, and after giving her a moment I called back the contact in DC so that we could begin the vetting process for a trip scheduled to take place only days later.
Fast forward to Thursday January 30th, in the airport awaiting our flight to San Francisco, for the three days and two nights stay, it finally began to sink in that next morning we'd have the opportunity to meet the First Lady of the United States, take a picture with her and hear her speak. The event itself took place in one of the ballrooms of the Fairmount Hotel in San Francisco, where Jane and I had the luxury of staying. We heard speeches from Representatives Nancy Pelosi and Barbara Lee on the importance of women in Congress over light refreshments before being escorted to a private area to have our picture taken with the FLOTUS. In line with Jane and me stood another sociology graduate student, a campaign worker, other U.S. Representatives and a host of other characters all waiting patiently for their thirty seconds with the woman of the hour.
Finally our time came, and we were escorted over to Michelle herself, who smiled and exuded a warmth and confidence that was staggering. Jane and I both had time to speak with her briefly, get a hug and two photos before our time was up. I told her about my research interest in eating behavior and body weight (to which she responded enthusiastically), and she and Jane bonded about being birthday twins (Capricorn power!). Then, she hugged us goodbye and we were ushered back to our seats where our lunch of quinoa, vegetables and chicken sat waiting for us to enjoy while the First Lady took the stage. Her speech was powerful, and hammered home the point of the entire DCCC luncheon event—when women succeed, America succeeds!
Jane and I spent the rest of the afternoon on cloud nine as we discussed the luncheon and enjoyed the gorgeous San Francisco afternoon. We rode a trolley to the Wharf, photographed Sea Lions and ate a leisurely lunch then took pictures of the Golden Gate Bridge and watched as people swam in the frigid waters. The next day, our last in San Francisco, we enjoyed a nice brunch and prepared for the return flight from our whirlwind adventure!
2014 is shaping up to be a great year!