Social media analysis challenges stereotype of conservative state
By Amanda Jean Stevenson
The full text of the article is available at this link to the June 24th edition of The Houston Chronicle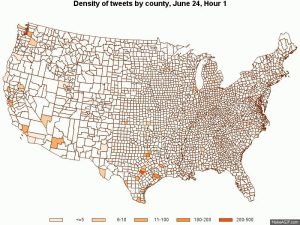 One year ago this week, state Sen. Wendy Davis drew national attention with her filibuster of HB2, an omnibus abortion restriction bill that has since ushered in a 50 percent decline in the number of abortion clinics in our state. For 11 hours a year ago today, she stood on the floor of the Texas Senate in her pink running shoes as thousands of Texans rallied around her at the state Capitol and 180,000 people watched online. Her filibuster also sparked the wildly popular social media hashtag #StandWithWendy, instantly offering insight into a segment of the state that isn't so red: Not all Texans agree that restricting abortion rights is a good idea.
Most discussion of Texas in the national media focuses on the state's extremely conservative factions. But Texas is full of principled people across the political spectrum. Thousands of them marched on the state Capitol to oppose HB2. Before Davis filibustered, 700 people registered to testify in a "citizens filibuster" that lasted late into the night of June 20, and thousands filled Capitol buildings day after day dressed in orange T-shirts, the color chosen to symbolize the fight against HB2. After Davis' filibuster, 19,000 filed comments against the bill and they continued to fill the Capitol for each hearing and vote. Throughout, they were joined by a digital chorus on Twitter that was hundreds of thousands strong.
I have analyzed the 1.66 million tweets that comprise the Twitter discussion associated with the bill. These tweets came from 399,000 users worldwide. Roughly 44 percent of the tweets were sent from Texans in support of abortion rights, and in all, about 115,500 Texans expressed their support for abortion rights as part of the Twitter discussion of the bill. These Texans are not all Austin liberals. They live throughout the state, in rural and urban areas. In fact, tweets in support of the filibuster were sent from 189 of Texas' 254 counties, including the majority of rural counties and all urban ones. Only 1.8 percent of the Texas population lives in counties from which no identifiable tweets of support were sent.